March is the start of spring, warmer weather and blooming flowers, but it's also National Nutrition Month! It is time to focus our attention on the importance of making informed food choices and creating regular physical activity habits to be our healthiest selves. According to NPR, 75% of Americans report eating a healthy diet when in actuality, 80% do not eat the recommended amount of fruits, vegetables or whole grains and one-third of adults are obese. The Academy of Nutrition and Dietetics helps break down National Nutrition Month by week and we've compiled some steps on how to institute these practices to achieve overall wellness.
Week One: Eat a Variety of Nutritious Foods
Include healthy foods from all food groups

: Over time, nutritional science has progressed and discovered the importance of key nutrients in the human's ideal diet. The food pyramid and recommended servings help ensure we consume the proper amount of these nutrients. A healthy diet is a balanced one and includes the following:
Learn how to read

nutrition facts labels

: The purpose of nutrition labels is to guide the consumer in food selection based on the nutrient contents of a particular food. It is a great tool to support your personal dietary needs and optimize body functions. However, many people do not fully understand how to properly read the label and what it means to them. 

Serving information is located at the top of the label and notes both a single serving size as well as total servings per container. It is important to note that this is not a recommended serving size but rather how much people typically eat or drink. The more servings you consume, the more calories and nutrients you will consume. 

Calories are a measurement of energy received through consuming food. To maintain a healthy body weight, consider your overall daily caloric needs when choosing what foods to eat. Your caloric goals depend on your age, sex, height, weight and physical activity level. The USDA provides a quick estimation calculator

here

.

The nutrients detailed on the label are vital nutrients that impact your health. As a general rule, try to limit saturated fat, sodium and added sugars — these are associated with an increased risk of cardiovascular disease and high blood pressure. Try to find foods that offer more dietary fiber, vitamin D, calcium, iron and potassium to help increase the frequency of bowel movements, lower blood glucose and cholesterol levels, and reduce overall calorie intake. 

Percentage of daily value is the amount of each nutrient in a serving of the food that contributes to a total daily diet. It simplifies the calculation process and helps quickly identify how much of the daily value is received based on a 2,000 calorie per day diet. As a general guide, 5% or less of a nutrient per serving is low, while 20% or more is considered high.
Incorporate your favorite cultural foods and traditions

: America embraces many different cultures all across the country, and with that comes food! You can adopt healthy eating with new and exciting recipes from around the world like stir fry dishes filled with protein and vegetables from China, minestrone soup made with tomatoes, beans and whole-grain pasta from Italy, grilled tilapia and gazpacho made from vegetables from Mexico and many others.
Week Two: See a Registered Dietitian Nutritionist (RDN)
Ask your doctor for a referral to an RDN

: These professionals may specialize in your unique needs and help translate nutrition science into practical solutions for healthy living. They use their expertise to help clients make positive lifestyle changes that stick. 

Receive personalized nutrition information to meet your health goals

: Using this information, whether from an RDN or your primary doctor, start to develop meal and nutrition plans that work towards your health goals and fit into your routine. Account for things like time, budget and preferences. 
Week Three: Plan Your Meals and Snacks
Choose healthy recipes to make during the week

: Start by writing down what you will have each day, especially during the week. This process will make it easier to stick to a plan rather than ordering out because you're unsure of what to make. If you aren't sure where to start, check out

some of these healthy recipes

that are great all year round.

Use a grocery list to shop for nutritious foods

: Once you have your meals planned out, it's time to make your grocery list to have everything you need ready to go. If you don't have the time to make it to the store for a large haul, try an ordering service such as Instacart or Shipt with Target for an additional fee. A shopper will pick up your items for you and deliver them right to your door for added convenience. 

Make healthy food and drink choices when away from home

: There will still be times when you will be eating and drinking away from home for work, happy hour or other social events. Just be prepared to make smart choices. Carry a water bottle with you everywhere, look at menus ahead of time to scout out nutritious options, opt for leaner and lighter items, add fruits and vegetables when you can. 

If you need more tips, make sure to check out our

four-step beginner's guide

to healthy meal prep.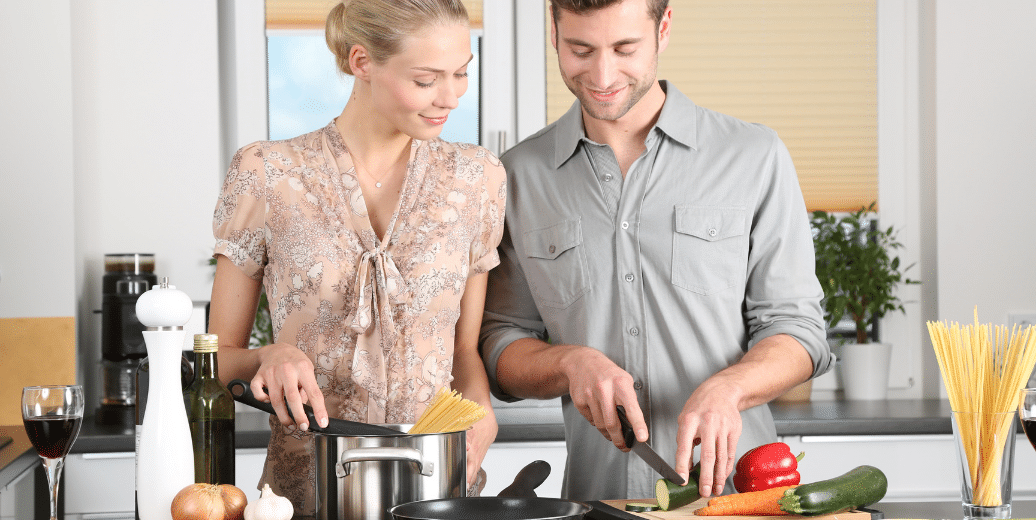 Week Four: Create Tasty Foods at Home
Learn cooking and meal preparation skills

: There are many online and in-person options to learn the skills you need to prepare nutritious meals. If you want to learn some basics that will help you in the kitchen, check out the free YouTube playlist

Basics with Babish

. There are videos on preparing chicken breast, eggs, pasta and pantry essentials. If you're looking for something in-person, the

Culinary Center of Kansas City

offers over 600 cooking classes each year with more than 20 years of experience. 

Try new flavors and foods

: Take this opportunity to try something new and find what you enjoy the most. If you enjoy nutritious foods and preparation, it will be easier to make them part of your lifestyle. 

Enjoy your meals with friends or family when possible

: By eating meals with others, the focal point of mealtime can shift to quality time rather than the amount of food you eat.

Research

also shows that families who regularly eat together are more likely to consume more fruits, vegetables, fiber and less fried foods.
Week Five: Put It All Together
Become familiar with the main food groups so that you can adequately plan balanced meals. Visit with a Registered Dietitian Nutritionist if you need further help finding the proper diet for you and your lifestyle. Take the time to write out your meals and snacks weekly to grocery shop ahead of time. Lastly, create tasty food at home! 
KC Wellness Center offers stand-alone programs that include lifestyle changes to ensure that you get fast, safe and sustainable results. The initial phase of our weight-loss programs consists of a combination of medications, supplements and meal plans customized to fit your needs and goals. To learn more about how we can help you in your weight loss journey, call us at 816-214-5276.