With our lives becoming busier and busier, sometimes dinner is a rushed event that's just another thing to cross off of our to-do lists. Sixty years ago, the average dinner lasted 90 minutes, but today, it's only 12! In recent years family dinners have declined by 33% in all. 😲 In this blog, we list ways you can make dinner a priority and the reasons why it's so important. 
Times Have Changed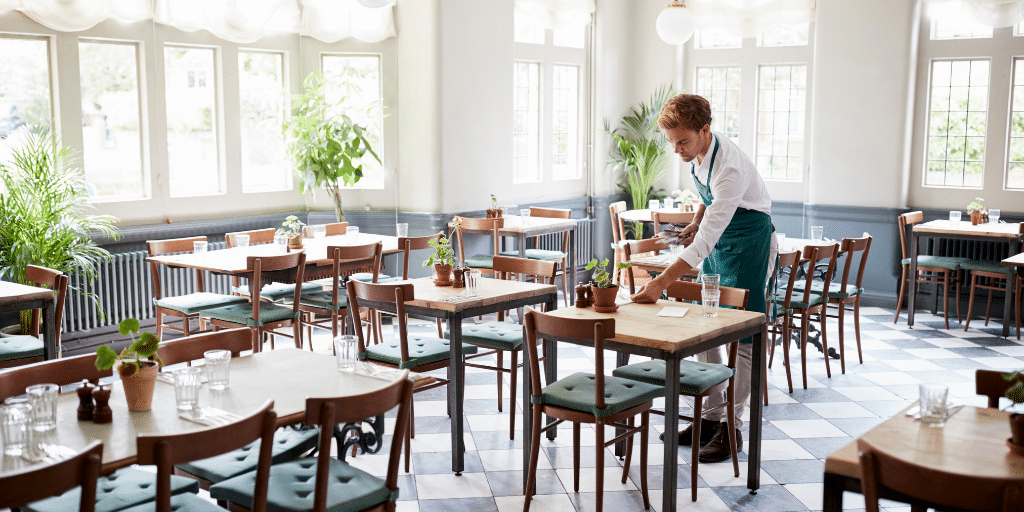 Instead of the home-cooked meals of the past, on average, 50% of a family's food budget is used for eating out. Why is this bad? According to a study by the Center for Science in the Public Interest, 97% of kids' restaurant meals do not meet expert nutrient standards. 
Growing children need a healthy, balanced diet of fruits and veggies, whole grain products and protein. Broken down, children should have three meals a day and one to three snacks.
Why Eating Together Is Important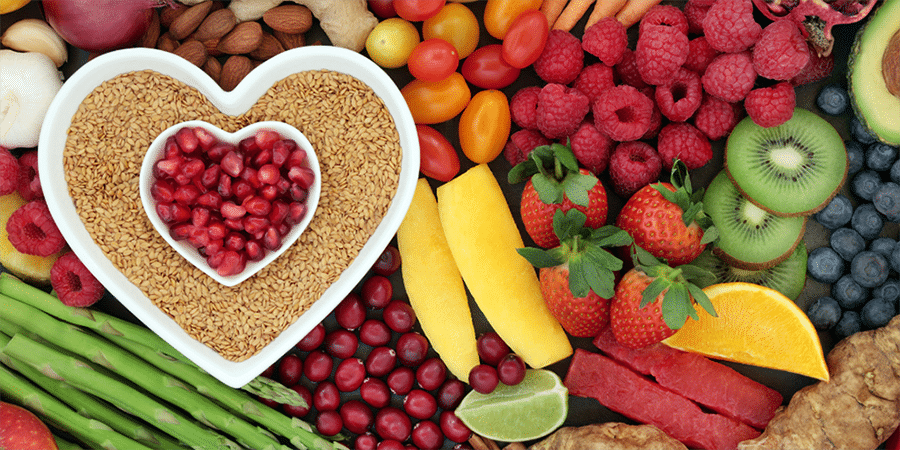 Research has shown that families who share 4-5 meals a week together eat more fruits and veggies, have healthier eating habits and are at less risk for obesity. The National Center on Addiction and Substance Abuse at Columbia University also found that families who share dinner three times a week do better in school and are less likely to engage in risky behaviors, including drug and alcohol usage. 
Most importantly, family dinners create time to bond with each other. Use mealtime to reconnect with your children or host a family discussion about questions like:
If you could change one rule, what would it be?

What was your favorite part of today?

If you could go on an adventure anywhere, where would it be?
 Getting Started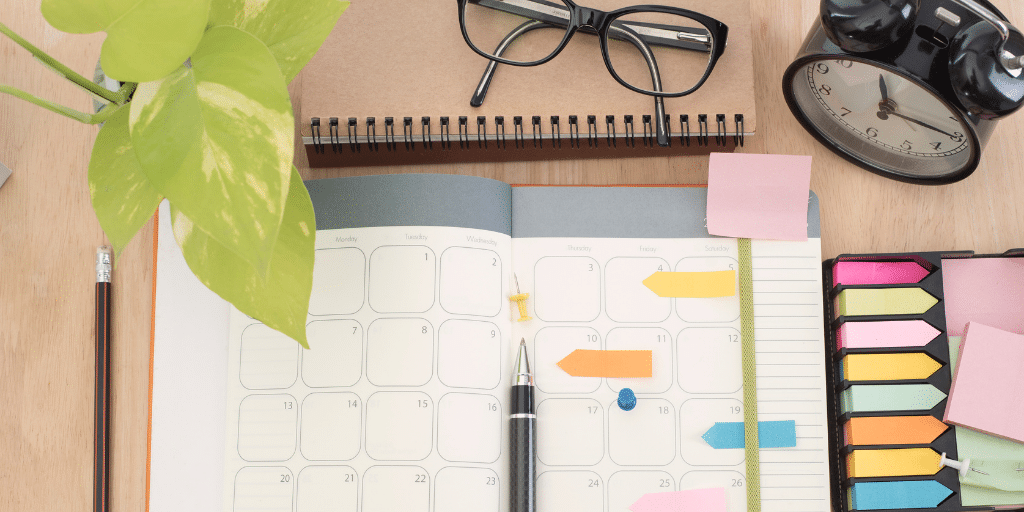 If you're interested in having regular family dinners, here are some steps that will help you get started:
Make a schedule of everyone's activities.

Add in your and your partner's work schedules. 

Decide on about three to four days everyone will eat dinner together. 

If you have teenagers, you may want to suggest Sundays-Thursdays so they can still see their friends on Friday and Saturday nights. 

Plan out who will cook, do the dishes and clean up after. This will help spread out the duties equally. 

This will also help make it more exciting when it is not your turn to cook. 

If your children are old enough, you can hold a competition for who can make the family's favorite meal. 

Don't give in during the first month. It will be the hardest time to make the transition from easy pick-up meals to home-cooked dinners, but it is so worth it! 
Meal Ideas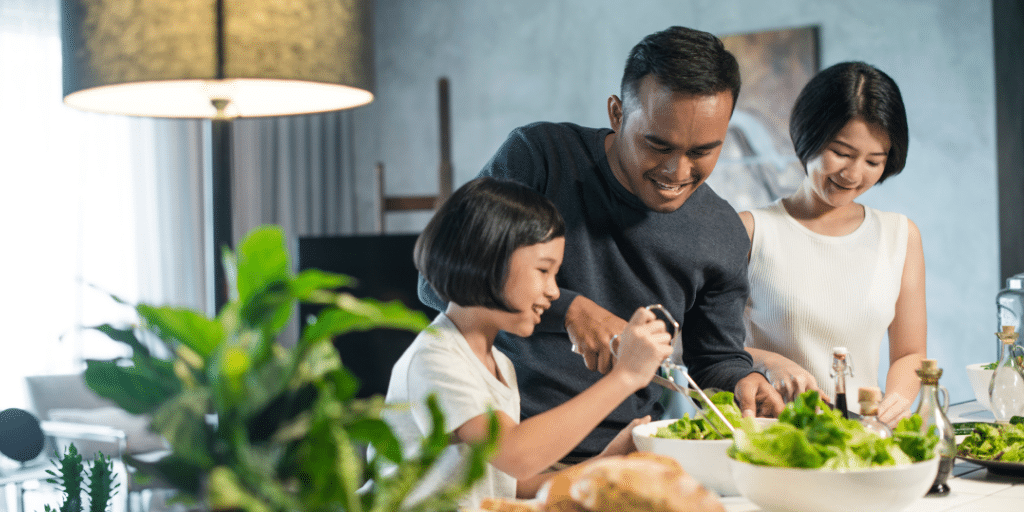 If you don't have time to go to the store, look into grocery delivery or pick-up options. If neither works for you, try a free trial of one of the online services that deliver your recipes and the ingredients! These services usually will still help you save money compared to going out to restaurants all week. 
Here are three recipes to get you excited for your first family dinners that only have four (or less) steps! 
Honey Garlic Glazed Salmon
Ingredients: 1/3 cup honey; 1/4 cup. soy sauce; 2 tablespoons. lemon juice; 1 teaspoon. red pepper flakes; 3 tablespoons extra-virgin olive oil; 4 6-ounce. salmon fillets, patted dry with a paper towel; Kosher salt; freshly ground black pepper; 3 cloves garlic, minced and 1 lemon, sliced into rounds
Directions: In a medium bowl, whisk together honey, soy sauce, lemon juice and red pepper flakes.
In a large skillet over medium-high heat, heat two tablespoons of oil. When the oil is hot but not smoking, add salmon skin-side up and season with salt and pepper. Cook salmon until deeply golden, about 6 minutes, then flip over and add the remaining tablespoon of oil.

Add garlic to the skillet and cook until fragrant, about 1 minute. Add the honey mixture and sliced lemons and cook until sauce is reduced by about one-third. Baste salmon with the sauce.

Garnish with sliced lemon and serve.
Chicken Stew 
Ingredients: 2 tablespoons butter; 2 large carrots, peeled and sliced into coins; 1 stalk celery, chopped; Kosher salt; freshly ground black pepper; 3 cloves garlic, minced; 1 tablespoon. all-purpose flour; 1 1/2 pound boneless skinless chicken breasts; 3 sprigs fresh thyme; 1 bay leaf; 3/4 pound baby potatoes, quartered; 3 cups low-sodium chicken broth and freshly chopped parsley, for garnish
Directions: In a large pot over medium heat, melt butter. Add carrots and celery and season with salt and pepper. Cook, stirring often, until vegetables are tender, about 5 minutes. Add garlic and cook until fragrant, about 30 seconds.
Add flour and stir until vegetables are coated, then, add chicken, thyme, bay leaf, potatoes and broth. Season with salt and pepper. Bring mixture to a simmer and cook until the chicken is no longer pink and potatoes are tender about 15 minutes.

Remove from heat and transfer chicken to a medium bowl. Using two forks, shred chicken into small pieces and return to the pot. 

Garnish with parsley before serving.
Classic Calzones 
Ingredients: Cooking spray; 1 3/4 pound pizza dough; all-purpose flour, for surface; 1 cup. pizza sauce; 1  ricotta; 1/2 cup pepperoni; 1 cup shredded mozzarella; extra-virgin olive oil, for brushing; Kosher salt
Directions: Preheat oven to 500 F, and grease two large baking sheets with cooking spray. Divide pizza dough into 4 pieces. On a lightly floured surface, roll one piece of dough out into an 8″ circle, about ¼" thick. Spoon pizza sauce in the middle of the dough, then dot with ricotta and top with pepperoni and mozzarella. 
Gently fold dough in half, dampen seams with water and pinch together. Then, crimp edges all around. Repeat with remaining dough. Transfer to prepared baking sheets. Brush tops with oil and sprinkle with salt. Using kitchen scissors or a sharp knife, slit tops in 2 to 3 spots to create steam vents. 

Bake until the tops are golden and filling is bubbling, about 20 minutes, brushing with more oil halfway through. Let cool 5 minutes before cutting open.