Summer is prime time for grilling and backyard barbeques. It provides a fun and flavorful way to cook meals but is often accompanied by an excess of sugar, salt and saturated fat. However, grilling can actually be one of the healthiest ways to cook if you employ a few strategies. According to Medical Daily, grilling over high heat helps release fat from meat, making it significantly lower in calories than frying. When you grill your food, the fat melts and drips off to reduce your fat intake. Whether watching what you eat for nutritional reasons, weight loss or both, we have some tips to help you make the most of your summer cooking!
1. Pick the perfect protein. 
The American Heart Association mentions that red meat tends to have more saturated fat, so opt for healthier choices, including fish, chicken breast and lean ground poultry. Choose skinless poultry or remove the skin before cooking and trim away any visible fat. You also don't have to limit yourself to solely meat options. Plant-based options can serve as a good alternative, such as portobello mushrooms stuffed with fresh herbs and goat cheese or stuffed bell peppers with brown rice or quinoa.
2. Pay attention to portion sizes.
A healthy portion of any meat is around three ounces or the size of a deck of cards. If this doesn't seem like a satisfying portion size, load up on more veggies to help you feel fuller longer.
3. Give it a soak or rub.
Marinating or rubbing spices on your meat can add great flavor and use less salt for seasoning. You can make a simple rub of your favorite spices, such as allspice, chili powder, cinnamon, cumin, garlic powder, paprika or rosemary. 
4. Add lots of colors.
Almost all of your favorite fruits and vegetables can be grilled to add extra flavor — either alone or assembled as kebabs. Try asparagus, avocado, bell peppers, corn, eggplant, mushrooms, onions, potatoes, squash or zucchini. Make sure to cut them into evenly sized pieces to ensure they will cook quickly and evenly. Brush with healthy oil, such as olive, avocado, sesame or safflower oil to prevent sticking to the grill.
5. Avoid additional condiments.
Many sauces and dressings contain added salt and sugar. You will want to read the ingredients lists on the bottles before adding them to your meal so that you don't negate the hard work you've done so far! Marinating or using a spice rub before grilling can still add lots of flavor to your meal without needing extras. If you do prefer to add something extra, try making your own healthier condiments, including ketchup, hot sauce or soy sauce.
6. Choose healthier sides.
It's easy to grab pre-made sides from the grocery store to enjoy with your barbecue, but those tend to be loaded with saturated fat, sodium and added sugars. Consider making your own versions of these sides, such as baked beans, cole slaw, macaroni salad and potato salad, or opt for a fresh leafy green salad.
7. Sip spritzers instead of soda.
It's common to reach for a soda, sweetened tea or lemonade to wash down all the barbecue goodness, but that can contribute to weight gain and offer zero nutritional value. Spritzers can be a nice, refreshing alternative made with pureed fresh fruits such as berries, peaches and watermelon. You can even set up a DIY spritzer bar with citrus clicks and herbs like basil and mint for garnish.
8. Lighten up desserts.
Take advantage of fresh fruits that are in season during the summer months rather than baking cookies, brownies or cake. The natural sugars caramelize in high heat and add extra sweetness. Try sliced apple, pear, pineapple, banana, nectarines, peaches or plums. You can even elevate these in-season fruits by adding crumbled feta, fresh mint or a drizzle of honey.
9. Select whole-grain buns.
If you are serving up your protein on bread, choose whole-grain options that offer extra fiber, flavor and texture. Another option is to try an open-faced burger or wrap your protein in lettuce.
10. Practice mindfulness for a guilt-free social event.
Don't stress too much that you void yourself of the fun festivities. If you make sure to stay hydrated, load up on extra veggies and indulge in a treat if you feel like it, you are more likely to stick with your weight management plan while still enjoying time with loved ones.
Check out these healthy recipes that are sure to be a hit the next time you pull out the grill! For your main course, try this California grilled chicken recipe from Delish.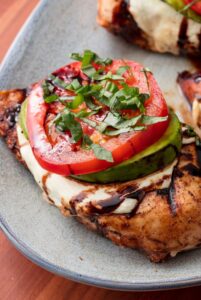 Ingredients
3/4 c. balsamic vinegar

1 teaspoon garlic powder

2 tablespoons honey

2 tablespoons extra-virgin olive oil

2 teaspoons Italian seasoning

Kosher salt

Freshly ground black pepper

4 boneless skinless chicken breasts

4 slices mozzarella

4 slices avocado

4 slices tomato

2 tablespoons freshly sliced basil, for garnish

Balsamic glaze, for drizzling
Directions
In a small bowl, whisk together balsamic vinegar, garlic powder, honey, oil and Italian seasoning. Season with salt and pepper. Pour over chicken and marinate for 20 minutes.

When ready to grill, heat grill to medium-high. Oil grates and grill chicken until charred and cooked through — eight minutes per side.

Top chicken with mozzarella, avocado and tomato. Cover grill to melt — two minutes.

Garnish with basil and drizzle with balsamic glaze.
For a side dish, try out this grilled carrots recipe from Delish.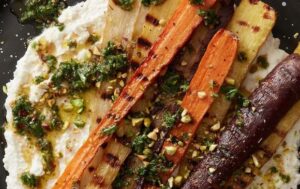 Ingredients
For carrots
1 lb. small carrots, peeled (halved if medium)

1 tbsp. extra-virgin olive oil

Kosher salt

Freshly ground black pepper
For carrot top chimichurri
1/4 c. carrot tops, washed and finely chopped

1 garlic clove, grated or minced

1/4 tsp. dried oregano

1/4 tsp. red pepper flakes

2 tbsp. extra-virgin olive oil

1 tbsp. red wine vinegar
For serving
1/2 c. whole milk ricotta

1 tbsp. chopped roasted pistachios
Directions
Heat grill on low until very hot — about 5 minutes. Toss carrots in olive oil and season with salt and pepper. Place carrots on grill and cook, covered, turning occasionally, until fork-tender and lightly charred — about 25 to 30 minutes.

Combine all chimichurri ingredients in a medium bowl and stir to combine.

Spread ricotta in the center of a serving dish until it is about ¼-inch thick. Top with grilled carrots, chimichurri and a sprinkle of pistachios.
For a delicious and healthy dessert, try this grilled peaches with honey cream recipe from Cooking Light.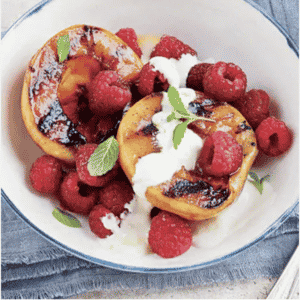 Ingredients
2 tablespoons unsalted butter, melted 

2 tablespoons honey, divided

¼ teaspoon ground cardamom

Dash of kosher salt

4 medium peaches, pitted and halved

Cooking spray

⅓ cup plain fat-free Greek yogurt

2 ½ tablespoons half-and-half

¼ teaspoon vanilla extract

1 cup raspberries
Directions
Combine melted butter, 1 tablespoon honey, cardamom and salt in a medium bowl. Add peaches and toss to coat. Let stand for five minutes.

Heat a grill pan over medium heat. Coat pan with cooking spray. Arrange peaches on grill pan; grill two minutes on each side or until grill marks appear.

Combine yogurt, half-and-half, remaining 1 tablespoon honey and vanilla in a small bowl; stir with a whisk. Serve with peaches and raspberries.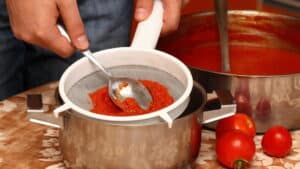 For a tasty alternative, try this homemade ketchup recipe from the American Heart Association to cut down on salt and high fructose corn syrup. Cook the following ingredients together on the stove at medium heat for an hour, adjusting the amounts to your liking:
1 (6-ounce) can low sodium tomato paste

1 tablespoon brown sugar or substitute sugar-brown sugar blend

1 teaspoon garlic powder

1 teaspoon onion powder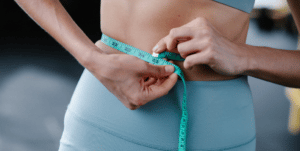 Consult with KC Wellness
When it comes to weight loss, there is no one-size-fits-all approach. It's a personal matter requiring an individualized plan to fit your needs and lifestyle. But for many people, without guidance and support from outside resources, successfully meeting weight loss goals (and keeping it off) can be a daunting challenge. At KC Wellness, we can teach you how to maintain a healthy weight effectively. We help you stay on course by following a realistic and consistent eating pattern in conjunction with getting regular physical activity. We focus on lifestyle changes that encourage safe and sustainable results. We are proud that about 90% of our patients have achieved their weight loss goal and successfully kept the weight off.
If you desire to regain control of your life through sustainable weight loss, then medical weight loss may be what you need. Our doctors and staff are always available to answer any questions and provide guidance along the way to help you succeed. You can also check out our comprehensive guide to medical weight loss. Reach out to our team today to see how we can help you in your weight loss and health journey. Call us at 816-214-5276 at contact us here.