The seasons are changing and it's time to get inspired! Scrap your go-to make-ahead meals and spice things up with these fall, meal-prep-friendly recipes!
According to Select Health, the benefits of meal prepping include saving time and money, managing your portion sizes and lowering your stress levels. Meal prepping also helps you put more thought into your food and what you're putting in your body. Let's dig in!
Breakfast
Veggie Black Bean Breakfast Burritos, courtesy of Fit Foodie Finds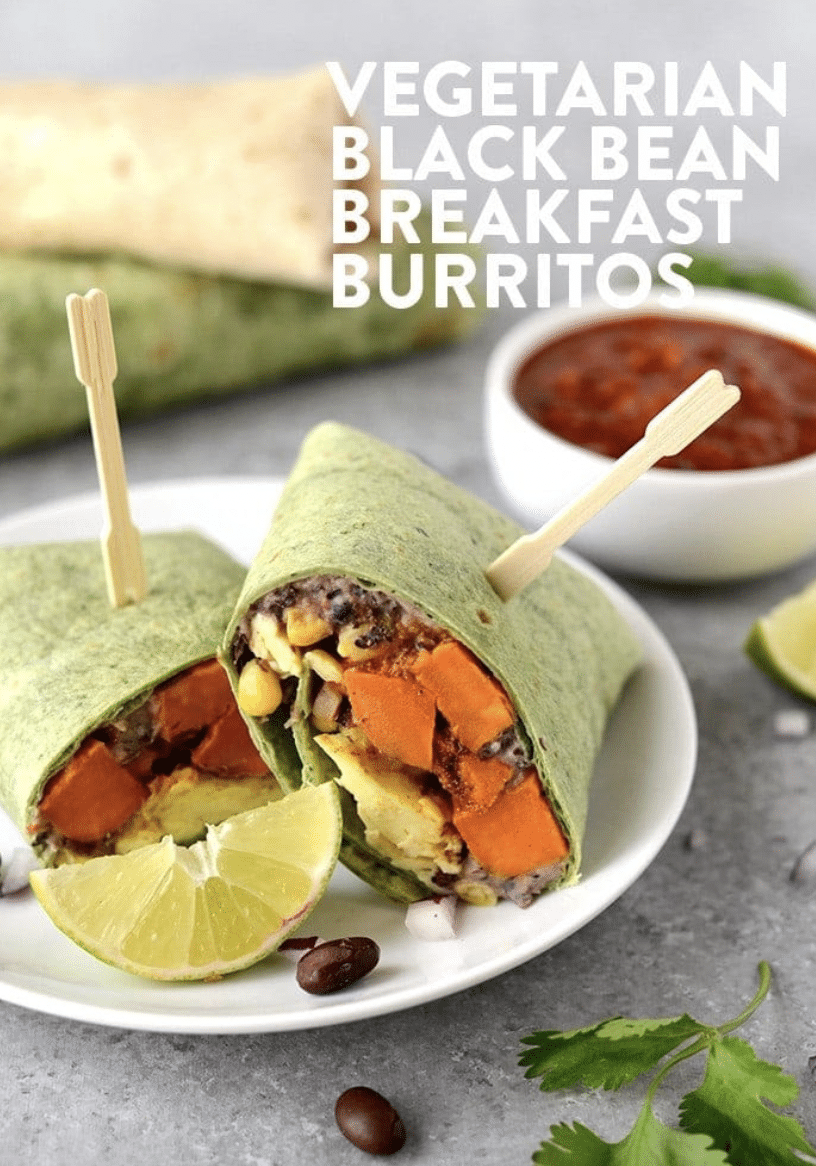 For the sweet potatoes…
3 cups sweet potatoes, peeled and chunked

2 tablespoons olive oil

1 teaspoon garlic powder

1 teaspoon chili powder

1 teaspoon ground cumin

sea salt, to taste
For the black bean mash…
2.5 cups black beans

2 tablespoons tahini (or sub olive oil)

1 teaspoon cumin

juice from a half lime (~ 2 tablespoons)

1/4 teaspoon sea salt

1/4 cup olive oil
For the eggs…
8 eggs, large

splash of milk, any kind

1/2 tablespoon EVOO

1/2 yellow onion, finely diced

salt and pepper, to taste
Other…
8 whole-wheat tortillas

1/2 cup green chiles

1/2 cup harissa sauce (or sub salsa)

1/2 cup of corn

1/2 cup chopped onion
For the sweet potatoes…
Preheat oven to 400ºF and drizzle about 2 tablespoons of olive oil on a baking pan.

Prep sweet potatoes by dicing them into 1-inch chunks. Spread on pan and season with spices.

Use your hands to toss the sweet potatoes so that they are evenly covered in olive oil and spices. Roast for 20-25 minutes or until you can pierce with a fork. Set aside.
For the black bean mash…
Place all ingredients in a high-speed food processor and process on high until smooth. Add more olive oil if you need to thin your paste out. ***Place about half the black bean paste in a container to eat later, you'll only use about half of it for this recipe!
For the eggs…
Prep scrambled eggs by heating about 1/2 tablespoon of EVOO in a large pan. Add in yellow onion and sauté until almost translucent.

Crack 8 eggs into a bowl and add a splash of milk. Whisk. Then, add into pan and cook for a few minutes, scraping the sides often with a spatula until cooked. Season with salt and pepper to taste.
Assemble…
Layout 8 tortillas on your countertop. Spread on about a tablespoon of black bean mash and a tablespoon of harissa sauce onto each tortilla. Then, add sweet potatoes, egg, a tablespoon of corn, a tablespoon of green chiles and a tablespoon of chopped onion.

Wrap like a burrito and eat immediately or *freeze later.
Tips for freezing:
Before wrapping the burritos in tin foil, wrap them in plastic wrap and squeeze as much air out as possible. This will prevent freezer burn and allow them to last for up to 3 months in the freezer.
Lunch
Squash & Crispy Kale Bowls with Pomegranate and Miso-Ginger Dressing, courtesy of The Every Girl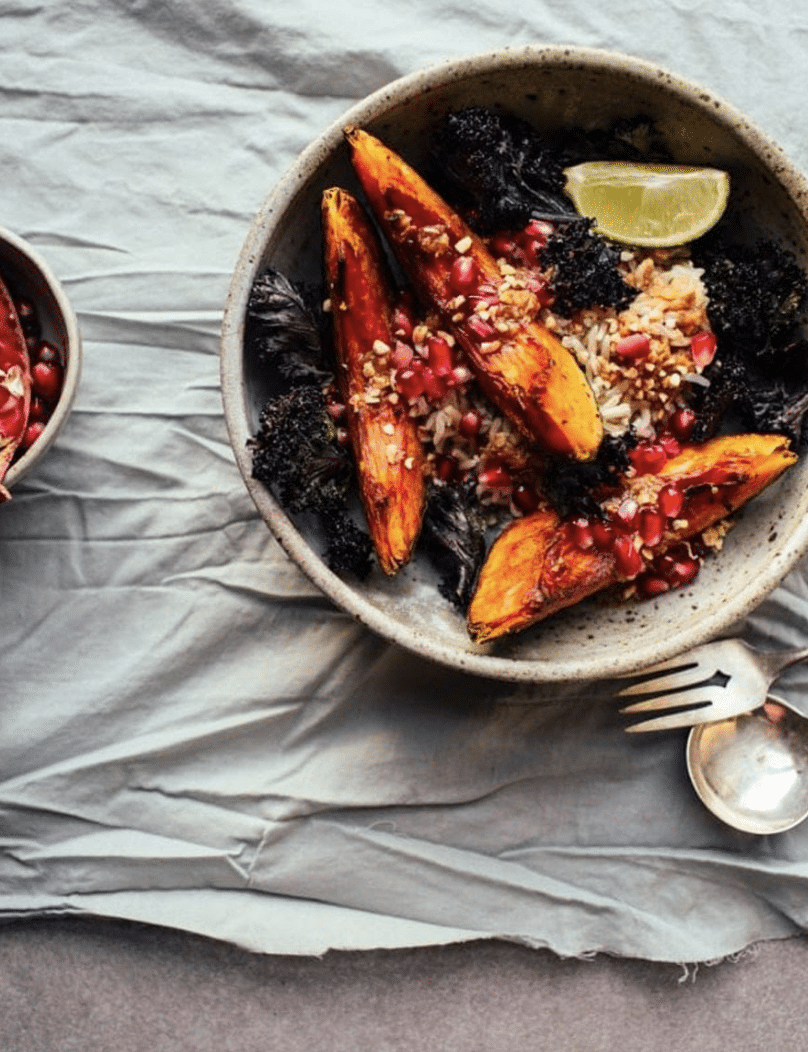 1/2 medium butternut*/crown prince squash or 1 kabocha squash, 4 cups

2 tablespoon olive oil or rapeseed oil

salt

1 cup long or short grain brown rice, rinsed

3 or 4 large leaves of curly kale

A handful of pomegranate seeds

.15 cups hazelnuts, chopped
Dressing…
1 tablespoon freshly grated ginger

1 clove garlic, crushed

2 tablespoon white, (Shiro) miso

1 tablespoon soy sauce

1 teaspoon toasted sesame oil

1/2 teaspoon honey or maple syrup

2 teaspoon mirin

juice of 1/2 a lime or lemon
Preheat the oven to 350 F.

Peel the squash and cut it into 1" wide pieces in the shape of a half-moon (see notes if you're using a butternut squash). Place into a baking tray and drizzle with half the oil, flip the pieces over and drizzle the other side with oil. Season with a pinch of salt and roast in the oven for 45 minutes – flipping the squash pieces halfway through their baking time.

Meanwhile, cook the rice: place the rice into a small pot and cover well with cold water. Season with a pinch of salt and bring to a boil over high heat. Once boiling, turn the heat down to the lowest heat possible and cover with a lid. Leave to cool for 20 minutes (for long-grain brown rice) or 30 minutes (for short grain brown rice). Drain the rice then return it to the pot and cover with the lid again, off the heat. Leave for 5 minutes to absorb the excess water.

Once the squash has roasted, remove from the baking tray to the two bowls – leave the oven on but turn the heat down to 290 F. Place the kale onto the baking tray and toss with any oil left on there (if there isn't much oil, just drizzle some more on) until well coated. Season with a sprinkle of salt and bake for 4-6 minutes until just crisp.

Mix together all the dressing ingredients in a bowl until smooth.

Assemble your bowls: to the bowls with the squash, spoon in the rice, top with the crispy kale, pomegranate seeds and hazelnuts. Drizzle with the dressing and serve!
Afternoon Snack
Baked Spinach Artichoke Dip, courtesy of Fit Foodie Finds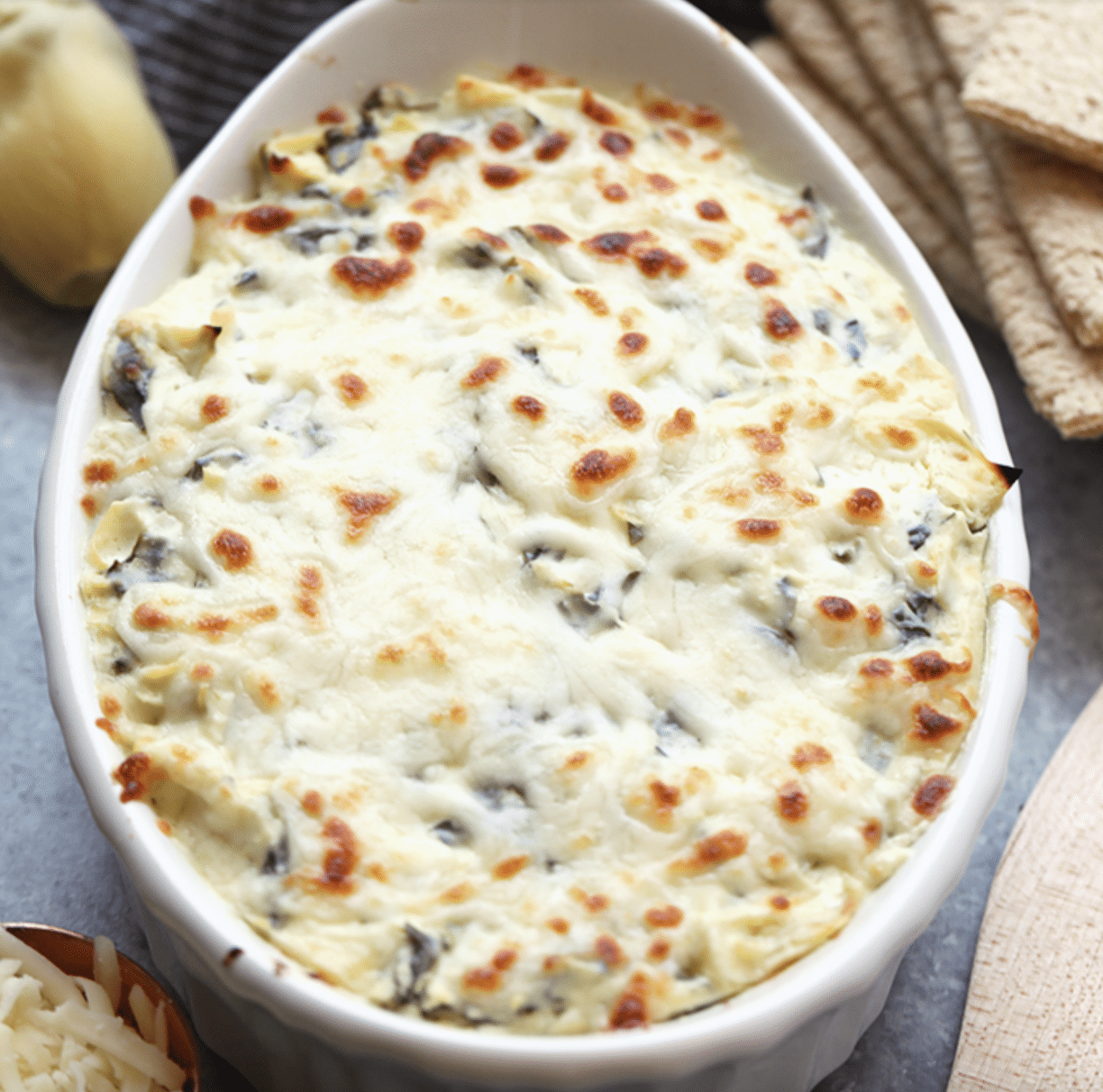 1 tablespoon olive oil

1 tablespoon minced garlic

5 oz. fresh spinach

4 canned artichoke hearts, roughly chopped

1 cup plain nonfat Greek yogurt

4 oz. cream cheese, room temperature

1/8 teaspoon salt

1 tablespoon lemon juice

1 teaspoon garlic powder

1/2 cup mozzarella cheese, divided
Preheat oven to 375ºF.

Place artichoke hearts, Greek yogurt, cream cheese, salt, lemon juice, garlic powder, and 1/4 cup of mozzarella cheese into a medium-size bowl and mix well. Set aside.

Heat 1 tablespoon of olive in a pan over medium/high heat. Add garlic and spinach and sauté for about 5-7 minutes. Remove from heat and add to cream cheese mixture. Mix well.

Transfer dip into a small casserole dish and bake for 20 minutes (or until it begins to bubble). Remove and top with an additional 1/4 cup of mozzarella cheese. Broil on high for around 3 minutes to brown the cheese.

Remove from heat, let cool for 5 minutes.
Dinner 
Turkey and Ricotta Stuffed Shells, courtesy of Eating Well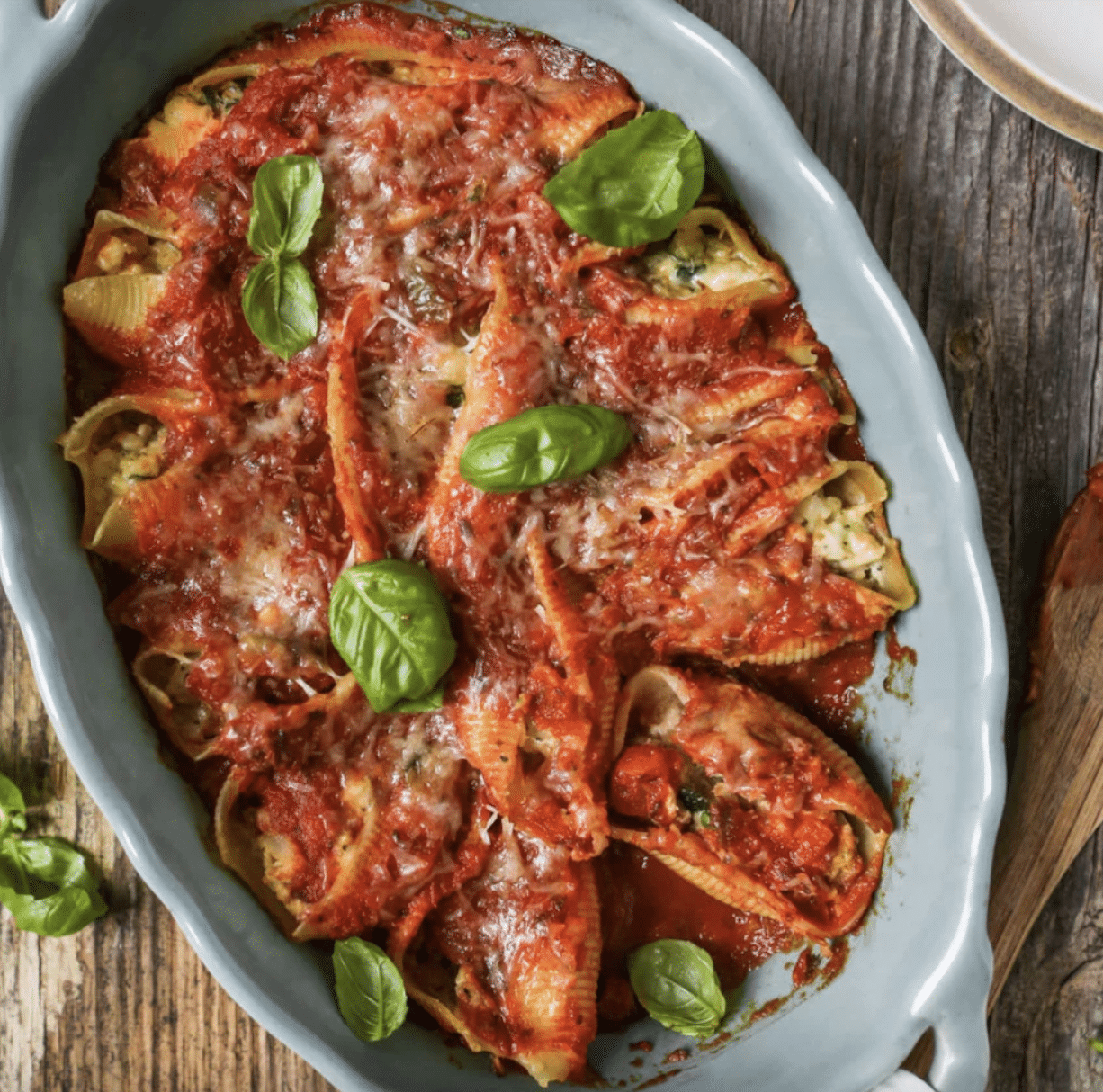 18 jumbo pasta shells

1 teaspoon extra-virgin olive oil 

2 cups diced zucchini (about 1 zucchini)

1 cup chopped onion 

2 teaspoons minced garlic

½ pound lean ground turkey

1 cup part-skim ricotta cheese

½ cup grated Parmesan cheese, divided 

1 large egg, lightly beaten 

2 teaspoons Italian seasoning

1 teaspoon fennel seed

¼ teaspoon freshly grated nutmeg or 1/8 teaspoon ground nutmeg

¼ teaspoon crushed red pepper

¼ teaspoon salt

¼ teaspoon ground pepper

2 cups no-sugar-added marinara sauce, divided

2 tablespoons chopped fresh basil (optional)
Preheat oven to 375 degrees F.

Cook shells in a pot of boiling water according to package directions until al dente. Drain and transfer to a plate.

Heat oil in a large skillet over medium heat. Add zucchini, onion and garlic and cook, stirring often, until the vegetables are softened, about 5 minutes. Add turkey and cook, breaking it up with a wooden spoon, until cooked through, 3 to 4 minutes.

Whisk ricotta, 1/4 cup Parmesan, egg, Italian seasoning, fennel seed, nutmeg, crushed red pepper, salt and pepper in a large bowl. Add the turkey mixture and mix well.

Spread 1 cup marinara in the bottom of a 9-by-13-inch baking dish. Spoon 2 heaping tablespoons of the ricotta mixture into each shell; arrange in the baking dish, seam-side up. Top the filled shells with the remaining 1 cup sauce and sprinkle with the remaining 1/4 cup Parmesan.

Cover the baking dish with foil and bake until the marinara is bubbly, about 30 minutes. Uncover and bake for 10 minutes more. Let the shells rest for 10 minutes, then sprinkle with basil, if desired, and serve.
Dessert
Healthy Carrot Cake, courtesy of Fit Foodie Finds
Dry ingredients…
3–4 large carrots, peeled and grated (2-cups packed)

3/4 cup white whole wheat flour

3/4 cup all-purpose flour

1/2 cup light brown sugar

1/2 teaspoon baking powder

1/2 teaspoon baking soda

1 teaspoon cinnamon

1/2 teaspoon ground ginger

1/8 teaspoon salt

1/3 cup chopped pecans

1/3 cup raisins
Wet ingredients…
1/3 cup unsweetened applesauce

2 large eggs

1 teaspoon vanilla extract

1/4 cup maple syrup

1/4 cup unsweetened almond milk

2 tablespoons melted coconut oil
Cream cheese frosting…
1/2 cup fat-free cream cheese

1/2 cup nonfat Greek yogurt

2 tablespoons maple syrup (or more to taste)
For the carrot cake…
Preheat oven to 350ºF and spray a 9×9-inch pan with coconut oil cooking spray. Set aside.

Next, peel and grate 2 to 3 large carrots. Place grated carrot on 2 pieces of paper towel and squeeze out as much of the moisture as possible. Save the juice and drink it!

Measure out 2 cups of grated carrots and then place into a large bowl along with the rest of the dry ingredients and mix.

In a medium bowl, mix together wet ingredients minus the coconut oil.

Add wet ingredients into the dry ingredients and mix. Finally, add in melted coconut oil and mix again.

Transfer batter into a 9×9-inch pan and into the oven. Bake at 350ºF for 25-30 minutes.

Let carrot cake cool for at least an hour before frosting.
For the cream cheese frosting…
While the carrot cake is cooling, make healthy cream cheese frosting. Place all ingredients into a medium bowl and mix until smooth.

Once the carrot cake is cool enough, frost, top with optional ground cinnamon and chopped pecans, slice and enjoy!
For all of these yummy recipes make sure to have meal-prep-friendly containers to store them in! Enjoy these delicious recipes for days to come! And if you need a refresher on how to meal prep, check out one of our other blogs!
At KC Wellness we want you to feel good this season on the inside and out! We are here to assist you with any and all of your fitness and health goals! Approximately 90% of our patients have lost the amount of weight that they wanted and have kept it off. Many patients have also decreased their blood pressure, watched their Type 2 diabetes disappear and reversed life-threatening cholesterol readings. For more information about our medical weight loss program, call us at 816-214-5276 or click here to see us!