August is National Back to School Month and that means back to a routine! Many parents are looking for fast and easy snacks to whip up before homework, but the typical choices usually aren't the healthiest. It can be easy to get into a routine of fast snacks, but instead, get into a healthy routine and stay away from processed foods! If your goal is to shed a few extra pounds, our medical weight loss program is also a great option! In the meantime, check out these delicious snack recipes that are fast and easy – and KC Wellness approved!
Apple Nachos
Instead of candy or a cookie try apple nachos from The Simple Veganista! This snack is perfect for your child with a sweet tooth! Here's how to get started:
Ingredients:
Apples – Use your favorite variety, green or red.

Peanut butter – Use creamy or crunchy. Also, Almond Butter, sunflower butter or your favorite nut butter would be great too.

Chocolate chips – You can opt for mini chocolate chips or cacao nibs or carob chips are a healthy option.

Shredded coconut – Use unsweetened or toasted would be delicious too. Not a fan of coconut? Feel free to omit it.

Cinnamon – A dash adds a nice warm flavor and pairs well with everything!

Lemon or lime – This is optional, but will help to keep the apples from browning.
Directions:
Apples-

Wash, core, and cut your apples into quarters. Lay apple quarters on a flat surface with the inside of the apple facing up, carefully slice your apple into ¼ inch slices, even ½ inch slices are good too. Whatever thickness you prefer, no rules here! Place apple slices in a small bowl with the lemon juice, toss to coat.

Nut butter- Heat your nut butter just until warm and somewhat runny.

Assemble- On a serving plate, lay your apple slices in a single layer around the outside edge, then layer another small layer over those but towards the inside center of the plate (like shown in the picture above). Drizzle the nut butter in a circular motion, from the middle of the plate to the outside edge. You can also just zig-zag the almond butter from one side to the other if you like. Again, no rules – just do what you feel is best! Top with chocolate chips, coconut flakes, almonds and a sprinkle of cinnamon (or whatever you've chosen to use as your toppings).
Serves one generously, or two as a small plate.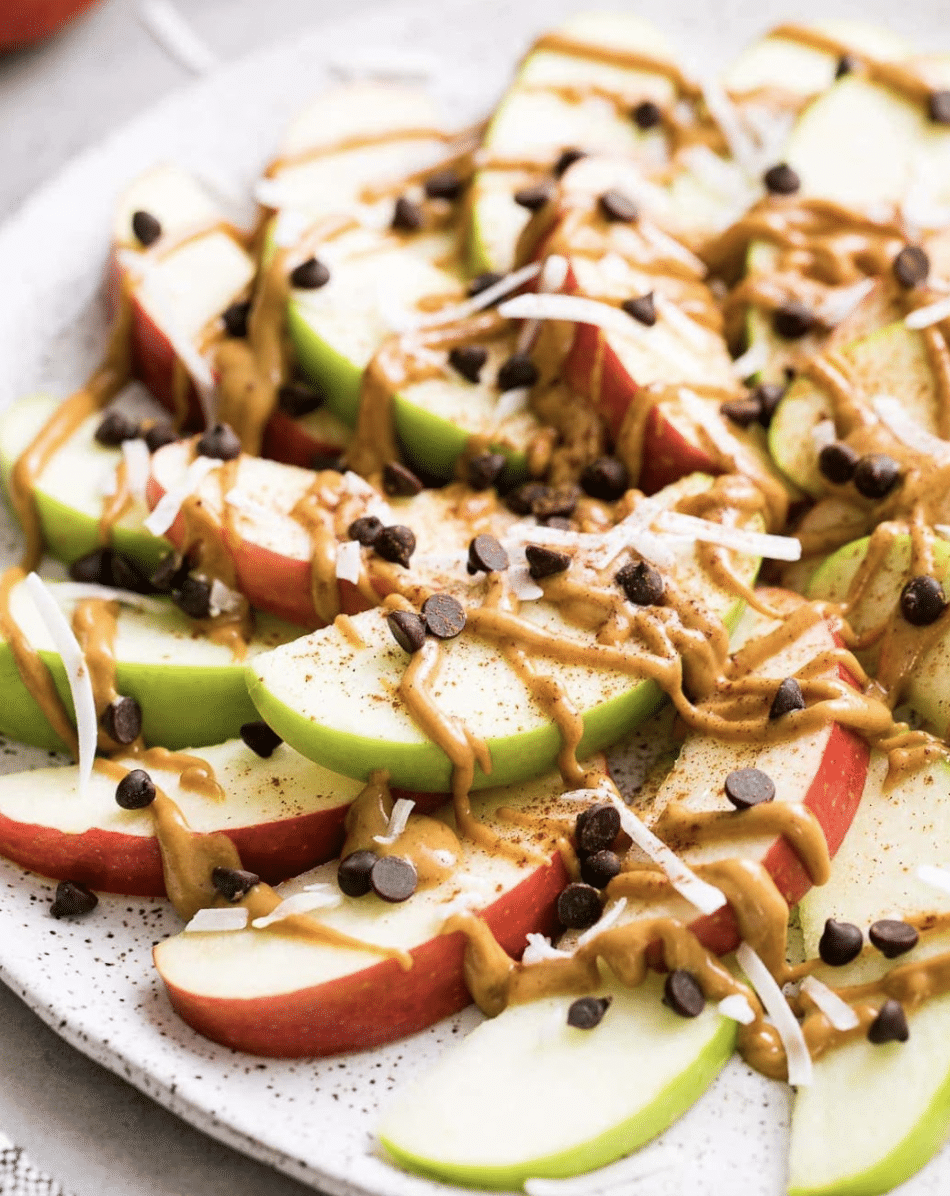 Not Your Average Pudding
Another good substitute for something sweet is avocado chocolate pudding from The Edible Perspective! Not only is it yummy, but it's also healthy — a parenting win!
Ingredients:
2 avocados, ripe

2 medium bananas, ripe

6-8 Tablespoons unsweetened cocoa powder

1 teaspoon vanilla extract

1 teaspoon cinnamon

1.5 scoops raw protein powder [optional]
Directions:
In a food processor, combine the avocado and banana, and process until smooth. Scrape down the sides of the bowl as necessary.

Add the cocoa powder, vanilla, cinnamon and protein powder [if using]. Process again until smooth. 

Refrigerate until ready to serve and add any topping you like.

Store in a sealed container and eat within 2-3 days.
Notes from the baker: This has the consistency of a thick pudding, but is not similar to chocolate pudding from a box. If you want a thinner consistency, add your favorite milk, starting with one tablespoon at a time. Do not use frozen bananas. The riper the banana, the sweeter and stronger the flavor will be. Your avocados should be slightly soft to the touch but not mushy, hard or watery when cut. If you don't like bananas, feel free to sub in a squash puree (drained of excess liquid). Add honey or maple syrup if desired. An immersion blender should also work for this.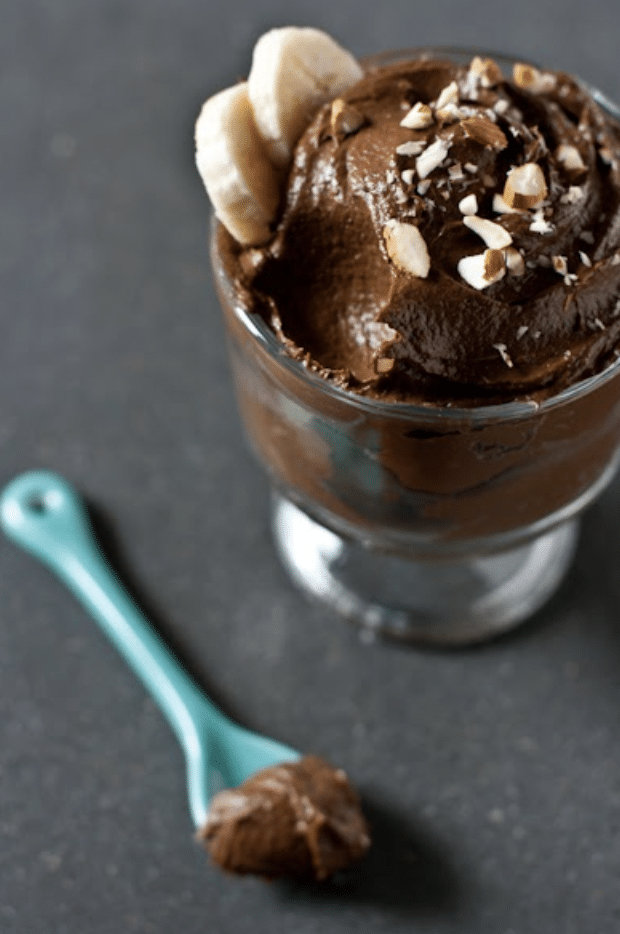 Carrot and Zucchini Snack Bars
Something easy that can be brought on the go is always a win! Enjoy this carrot and zucchini snack cake from Laura Fuentes:
Ingredients:
1 ½ cups all-purpose flour

1 ½ teaspoons baking powder

¼ teaspoon baking soda

2 eggs, slightly beaten

1 teaspoon grated fresh ginger, (optional)

1 ½ cups shredded carrot, about 2 large carrots

1 cup packed shredded zucchini, about 1 medium zucchini

¾ cup packed brown sugar

½ cup golden raisins, (optional)

½ cup butter, or coconut oil

¼ cup honey

1 teaspoon vanilla

2 tablespoons flax seed meal, (optional)
Directions:
Preheat the oven to 350F. Grease a large 13×9 inch baking pan.

In a large bowl, combine the flour, baking powder and baking soda.

In another large bowl, whisk the eggs. Add in the ginger, carrot, zucchini, brown sugar, raisins, butter or oil, honey and vanilla.

Combine the wet mixture into the flour mixture until you have a cohesive batter.

Pour the mixture inside the greased baking pan and bake, for 22-25 minutes, or until a wooden toothpick comes out clean. Remove from oven and cool.

Once cooled, cut into 24 squares.
Enjoy!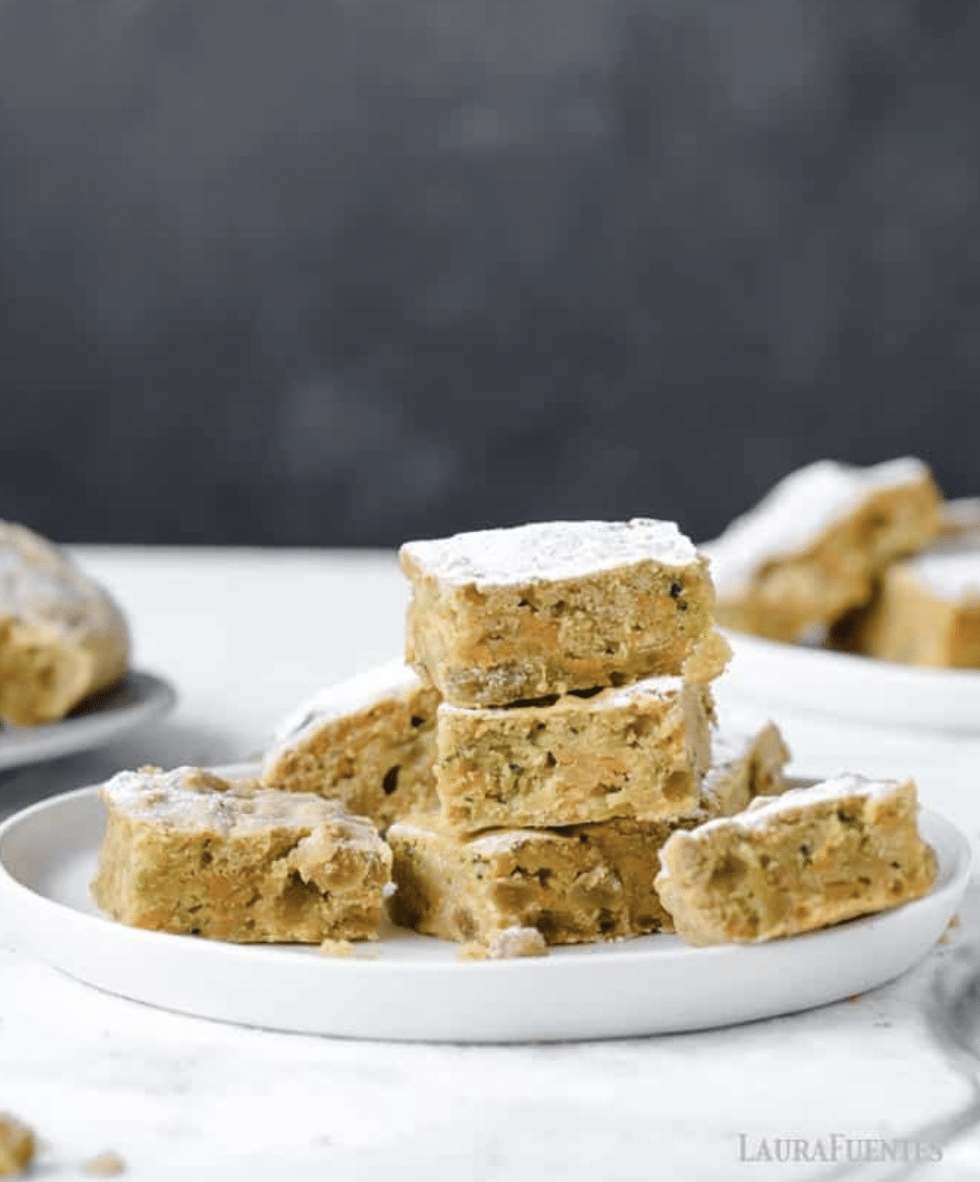 Cheese Straws
It might sound cheesy, but this might be our favorite after-school snack: cheese straws from Momables!
Ingredients:
1 sheet frozen puff pastry, thawed

1 large egg

½ cup shredded Italian cheese blend, such as Parmesan, Romano, and Asiago

½ cup shredded mozzarella cheese

All-purpose flour, for dusting
Directions:
Let the frozen puff pastry thaw at room temperature until softened, about 30 minutes.

Meanwhile, preheat the oven to 400ºF (200ºC). Line a baking sheet with parchment paper.

Crack the egg into a small bowl or cup. Add 1 tablespoon (15 mL) water, and whisk until blended. In another small bowl, mix together the cheeses.

Unfold the thawed puff pastry sheet and place it on a lightly floured work surface. Using a pastry brush, brush some of the egg mixtures evenly over the dough. Sprinkle half of the cheese mixture evenly over half of the egg-brushed dough.

Fold the uncovered dough over the cheese and press gently to seal. Brush the top with the egg mixture, sprinkle with half of the remaining cheese mixture, and press gently to help stick. Turn the dough over, brush the other side with the egg mixture, sprinkle with the remaining cheese, and press gently. Discard any remaining egg mixture.

Cut the pastry vertically into 6 strips or horizontally into 12 smaller strips. Holding each strip by the ends, turn the ends a few times in the opposite direction to make a twist. Place the twists, evenly spaced, on the baking sheet.

Bake until browned, about 10 minutes. Let cool briefly. Serve warm or at room temperature.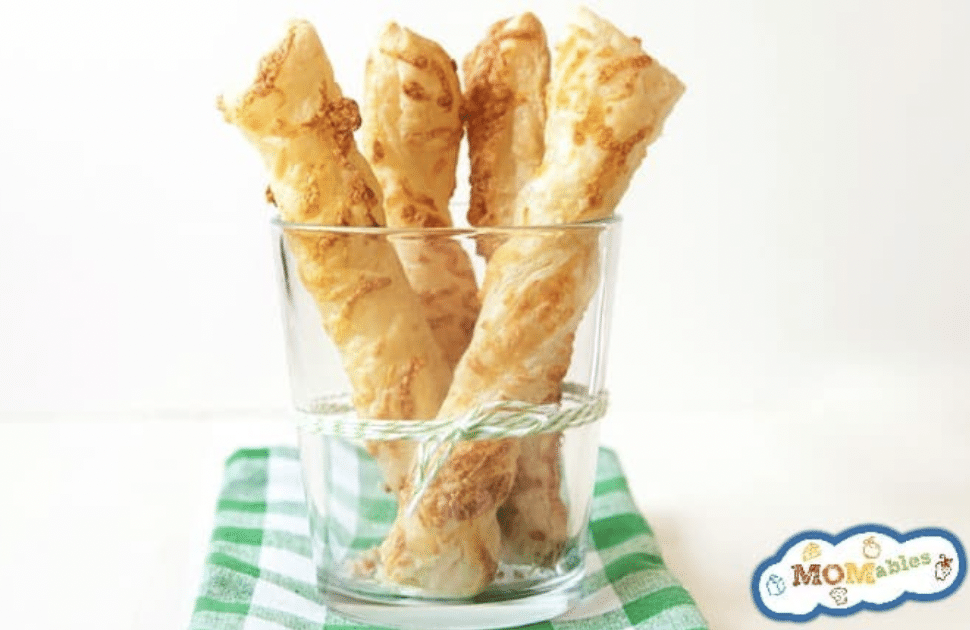 Cereal Bars
Cereal for snack time? Count us in! Enjoy these cereal bars in four different flavors from Martha Stewart!
Ingredients:
Base recipe:
3 tablespoons unsalted butter, plus more softened for pan

1 10-ounce bag mini marshmallows

1 recipe mix-ins (see below)
Cocoa Nutty:
5 cups chocolate puffed rice cereal, such as Cocoa Krispies

1 cup cocktail peanuts, roughly chopped

1/2 cup chopped semisweet chocolate
Trail Mix:
5 cups puffed oat cereal, such as Puffins

1/2 cup dried cherries or cranberries

1/2 cup chopped toasted pecans

1/2 cup toasted pepitas
Tropical Breeze:
5 cups flaked corn cereal, such as Corn Flakes

1/2 cup chopped dried tropical fruit, such as mango and/or pineapple

1/2 cup toasted coconut flakes

1/2 cup chopped macadamia nuts
Berries and Cream
5 cups whole-grain oat cereal, such as Cheerios

3/4 cup chopped freeze-dried raspberries

3/4 cup chopped white chocolate
Directions:
Grease a 9-inch square baking pan with softened butter. Melt 3 tablespoons butter in a large pot over medium heat. Add marshmallows; cook, stirring until melted. Remove from heat.

Stir in cereal and chosen mix-ins to combine. Press into prepared pan; let stand until firm, about 1 hour. Cut into squares and serve, or store in an airtight container at room temperature up to 3 days.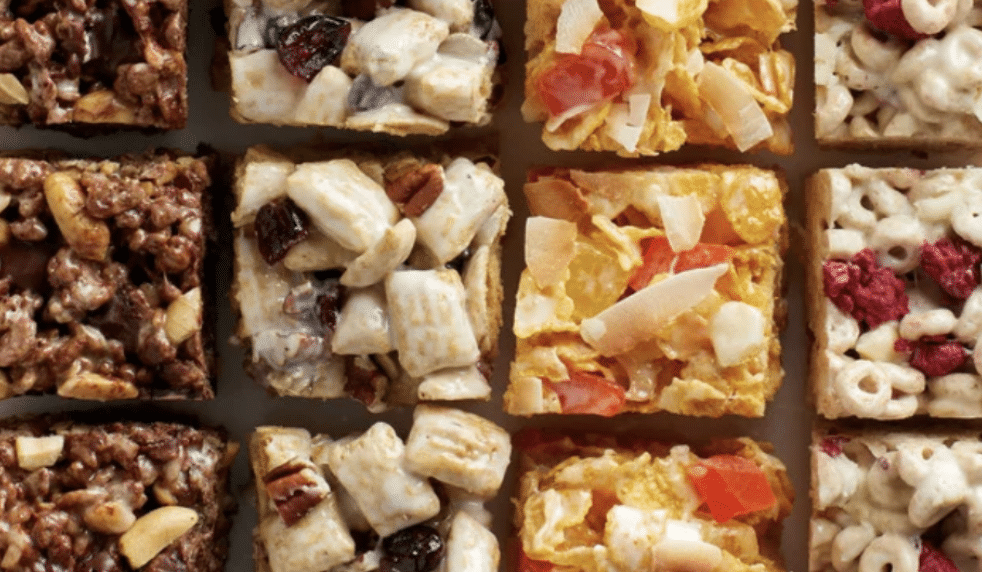 Ham and Cheese Pinwheels
For the meat-eater in your family try these ham and cheese pinwheels from Country Living!
Ingredients:
Cooking spray

All-purpose flour, for work surface

1 sheet puff pastry (from a 17.3-ounce package), thawed

3 tbsp. Dijon

4 oz. thinly sliced deli ham

4 oz. Gruyère cheese, grated (about 1 cup)

Freshly ground black pepper

Chopped fresh chives, for garnish
Directions:
Preheat oven to 375°F. Lightly grease a large, parchment paper-lined rimmed baking sheet. 

On a floured work surface, roll puff pastry into a 12-by-16-inch rectangle. Top with mustard, spreading to edges. Top with ham then cheese. Season with pepper. Starting at one short end, tightly roll up into a log. Trim and discard ends, then cut log into 20 (1/2-inch-thick) pieces; transfer to prepared pan. Freeze 5 minutes. 

Bake until golden brown, 20 to 25 minutes. Serve warm or at room temperature topped with chives.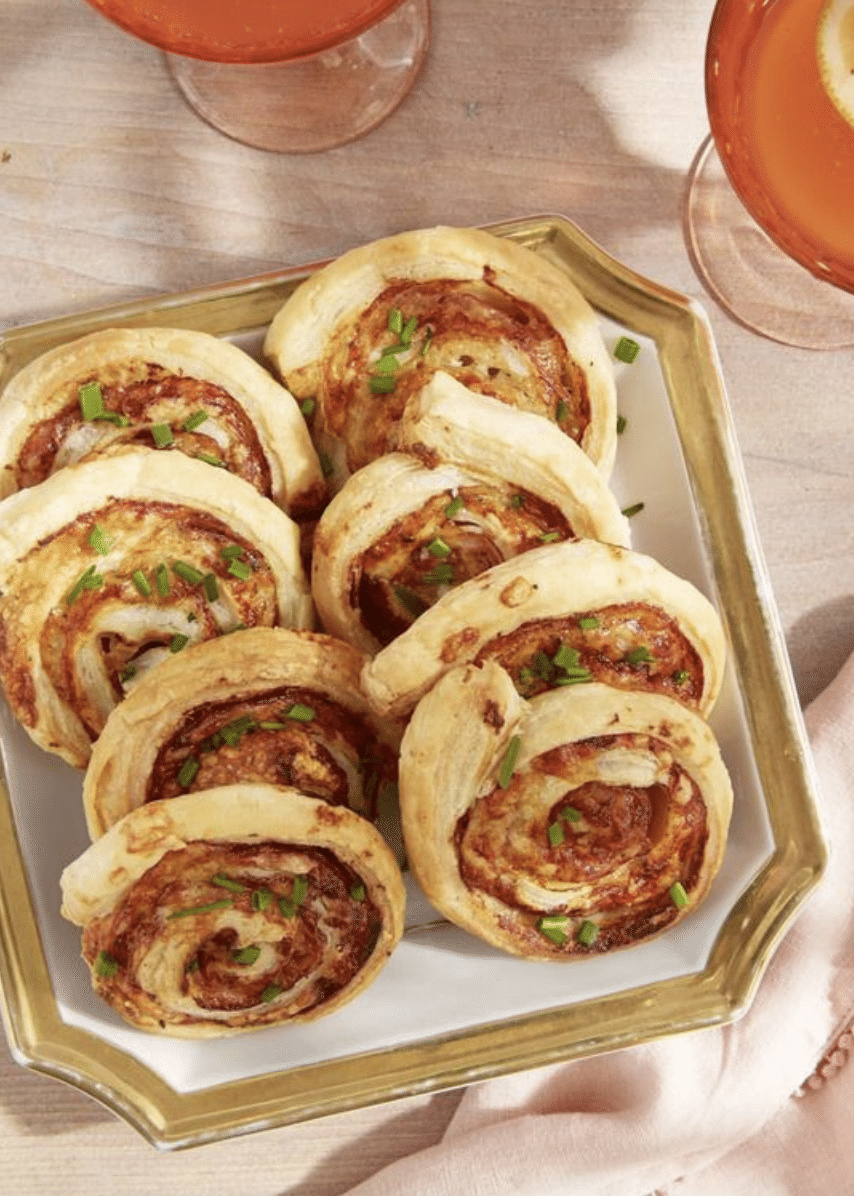 Start this new school year with a win with these delicious after-school snack recipes! We promise these snacks will have all of the other parents talking!
Also, take time for yourself while the kids are in school and accomplish those wellness goals you have been putting off. Lose those few extra stubborn pounds or get back to feeling yourself again with BHRT! KC Wellness is here to advise you and help you hit the reset button this school year. For more information about our programs or treatments, give us a call at 816-214-5276, email us at info@kcmedicalwc.com, or visit us at 1412 NW Vivion Road Kansas City, MO 64118.