As the spread of COVID-19 begins to resurge, public officials have been watching closely to detect certain mutations and variants of the virus that may be more contagious than the original strand. Like most living things, viruses constantly change and adapt in order to survive. When these changes occur, new variants are created and discovered. In recent months, the Delta variant of the coronavirus has been spreading throughout the country rapidly promoting new mandates and guidelines.
For the ones who chose to get the vaccine, this summer was promising and seemingly carefree, but the rise of this infectious variant has once again created worry. Though the vaccine has been proven to be effective when protecting against COVID-19, there has still been a surge among cases across the world. 
As cases of the Delta variant increase, specifically in the Kansas City area, many are questioning what this means for our day-to-day lives, mask mandates, their health, traveling, and many more inquiries. KC Wellness is here to be a source of comfort and information during this confusing time.
What is the Delta variant?
According to the Center for Disease Control (CDC), the Delta variant of COVID-19, also known as B.1.617.2, spreads more easily than other strands of the virus. Mutations on the spike protein make human cell infection much easier and allow the virus to attack lung cells quicker potentially escaping protection from the vaccine, though studies are still being conducted to gain more information. According to Yale Medicine, contrary to popular belief, the Delta variant was first discovered in India in December of 2020 leading to major outbreaks in that area. Now, it is reported to be active in 104 countries, according to the CDC tracker — currently, the Delta variant makes up about 96% of COVID cases in the Midwest and 82.2% of the entire countries cases. 
The symptoms of this variant are consistent with those of the original and more known variants, including but not limited to cough, headache, fever, sore throat. According to Fortune, a big difference with this variant is that the popular symptom of loss of taste and smell that comes with COVID-19 are not as common whereas flu-like symptoms are more common. Because of this, it is theorized that many cases are being mistaken as a cold or flu leaving the quarantine period untouched, allowing for a large spread among others. According to the Washington Post, lockdowns and curfews have been put into place in Australia, Bangladesh and South Africa, and new travel restrictions have been placed on Germany, Hong Kong and Taiwan. 
What are the KC guidelines right now?
Because of all of the lockdowns, restrictions and mandates occurring all over the world once again, it is important to keep our Kansas City community educated and up to date with the latest guidelines. According to CNBC, as of July 27, the CDC has now reversed its mask policy, urging people in parts of the United States, regardless of vaccination status, to wear masks in public places.
In Kansas City specifically, as of Monday, August 2, an updated order was put into effect. This order includes the mandate to wear masks or facial coverings in all indoor spaces of public accommodation where six feet of social distancing cannot be maintained or where not all patrons are fully vaccinated by a federally approved vaccine. Some restaurants and bars have begun to require proof of vaccination in order to gain entry to the businesses. Many officials and patrons are urging residents of the Kansas City area to maintain the use of masks in public settings due to the exponential surge in the area and the surrounding states. According to Fox4, "There's no question that the Delta variant is surging here in Kansas City," said Kansas City, Missouri Health Director Dr. Rex Archer. 
Will we ever return to "normal"?
When will "normal" life fully return? That's the question we all seem to be asking ourselves every day since March of 2020. According to the City of Kansas City, Missouri, the new and updated order will remain until 12:01 am on Saturday, August 28 unless previously modified. The updated order will be evaluated constantly and may be changed even more as circumstances change and as new information from a government official, public health officials and medical experts become available. Changes in guidelines should be anticipated and expected due to the current information on the Delta variant. The CDC has forecasted that the number of cases and deaths will increase rapidly over the course of the next few weeks and months now that the Delta variant is dominant. According to the Washington Post, "The delta variant is showing every day its willingness to outsmart us and to be an opportunist in areas where we have not shown a fortified response against it," said CDC Director Rochelle Walensky.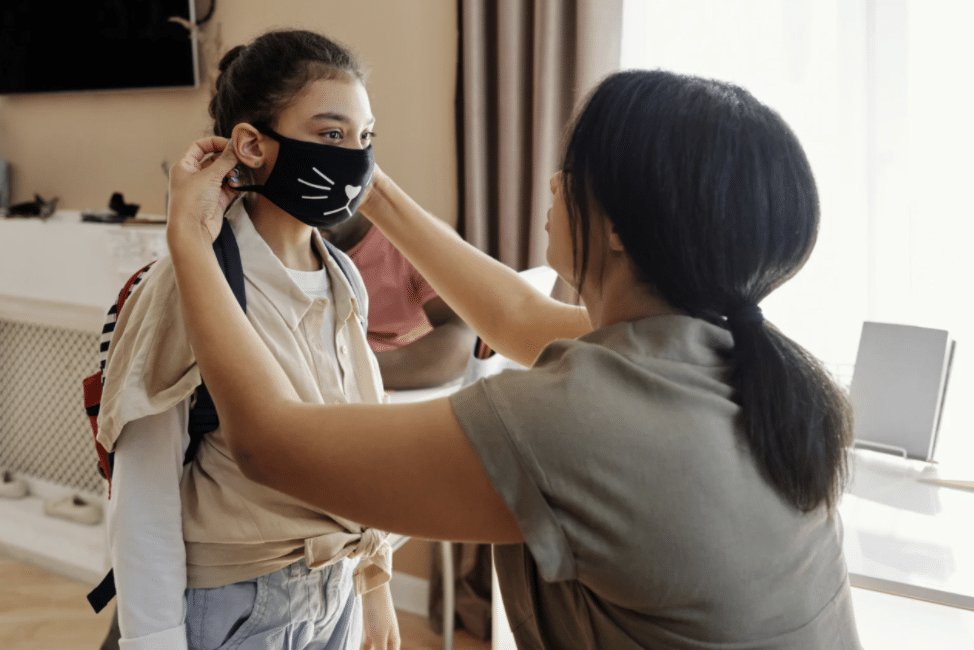 What about the vaccine?
All three vaccines available that are federally approved have been proven to be effective against the current strands of the virus, and have prevented serious life-threatening symptoms that would have presented themselves. Many people are confusing the purpose of the vaccine to prevent severity and death with the promise of completely eliminating the virus as a whole. According to the Washington Post, "I think this is a really important point because that's our primary goal with our vaccination effort: to prevent severe disease, to prevent hospitalization, to prevent deaths," said William Moss, a professor of epidemiology at the Johns Hopkins Bloomberg School of Public Health. 
A study published in mid-July in the New England Journal of Medicine discovered that the Pfizer-BioNTech vaccine was 36% effective against symptomatic disease caused by the Delta variant after the first shot of the two-shot regimen, but 88% effective after the second shot. Pfizer-BioNTech and Moderna are similarly manufactured, so they have similar effectiveness. The Johnson & Johnson vaccine, however, showed that it had a diminished immune response to the delta variant in some laboratory tests. According to the White House, "The good news is that our vaccinations are highly effective," President Biden has said. "Fully vaccinated Americans have a high degree of protection, including against this delta variant."
How can I stay safe?
The best things that you can do to maintain your safety and health is to get vaccinated, wear a mask and follow guidelines. Guidelines and mandates are put into effect based on data, research and studies from experts. There is no arguing with science. If you are not one to engage in vaccinations, wear a mask and be smart about maintaining distance in case of undetected infection. The CDC stated, "Everyone living or working in high-transmission communities should resume wearing masks in indoor public spaces, including the vaccinated." If you live with or are consistently around someone who is immunocompromised, it is very important that you maintain the use of masks at all times to avoid infecting them because they cannot heal and fight off the virus as easily as someone who is not comprised. To protect yourself and those around you, if you are feeling any symptoms, stay home and limit contact with others.
How We Can Help
Here at KC Wellness, we are adapting and ready to help you feel your best. We offer many services to help you maintain your health — even during a pandemic. We have weight loss services including supplements, injectables and coaches ready to help you look and feel your best. Our IV vitamin therapy is perfect to replenish any nutrients that may have washed away while recovering or to fill your body with nutrients equipped to help fight off any bug. Through the use of IVs, we replace all the lost nutrients on a day-to-day basis back into your body for instant energy and relief. For more information on our services and how we can help you stay healthy, call us at 816-214-5276 or click here and remember to mask up!