It's the most wonderful time of the year… football season! Living in Kansas City, being a Chiefs fan is ingrained in us. We wait all year for Patrick Mahomes, Travis Kelce and Andy Reid, but most importantly… for tailgating!
What pops in your mind when you think about tailgating? Heavy foods and beer, of course, but it doesn't have to be that way!
Everybody loves all of the pieces that make up the tailgating puzzle, but many worry about not following their normal diet. Healthy eating doesn't mean you're limited to the raw veggie platter, healthy tailgate food can still be fun and yummy!
From Buffalo Bites to Mini Cauliflower Pizza Bites, check out these fun, delicious, guilt-free tailgating recipes that will keep your mouth watering for the entire season!
Turkey Chili
1 pound lean ground turkey
3/4 cup chopped celery
3/4 cup chopped onion
3/4 cup chopped green pepper
2 Tbsp chili powder
1 tsp ground cumin
1/4 tsp pepper
1/8 to 1/4 teaspoon cayenne pepper
2 cans (14-1/2 ounces each) no-salt-added diced tomatoes, undrained
1 jar (24 ounces) meatless pasta sauce
1 can (16 ounces) hot chili beans, undrained
1-1/2 cups water
1/2 cup frozen corn
1 can (16 ounces) kidney beans, rinsed and drained
1 can (15 ounces) pinto beans, rinsed and drained
Optional toppings: Sour cream, cubed avocado, diced jalapeno peppers
In a large skillet, cook and crumble turkey with celery, onion and green pepper over medium-high heat until turkey is no longer pink, 6-8 minutes. Transfer to a 5-qt. slow cooker. Stir in seasonings, tomatoes, pasta sauce, chili beans, water and corn.
Cook, covered, on high for 1 hour. Reduce setting to low; cook, covered, for 5-6 hours or until flavors are blended.
Stir in kidney and pinto beans; cook, covered, on low for 30 minutes longer. If desired, serve with sour cream, avocado and jalapeno.
Recipe courtesy of Taste of Home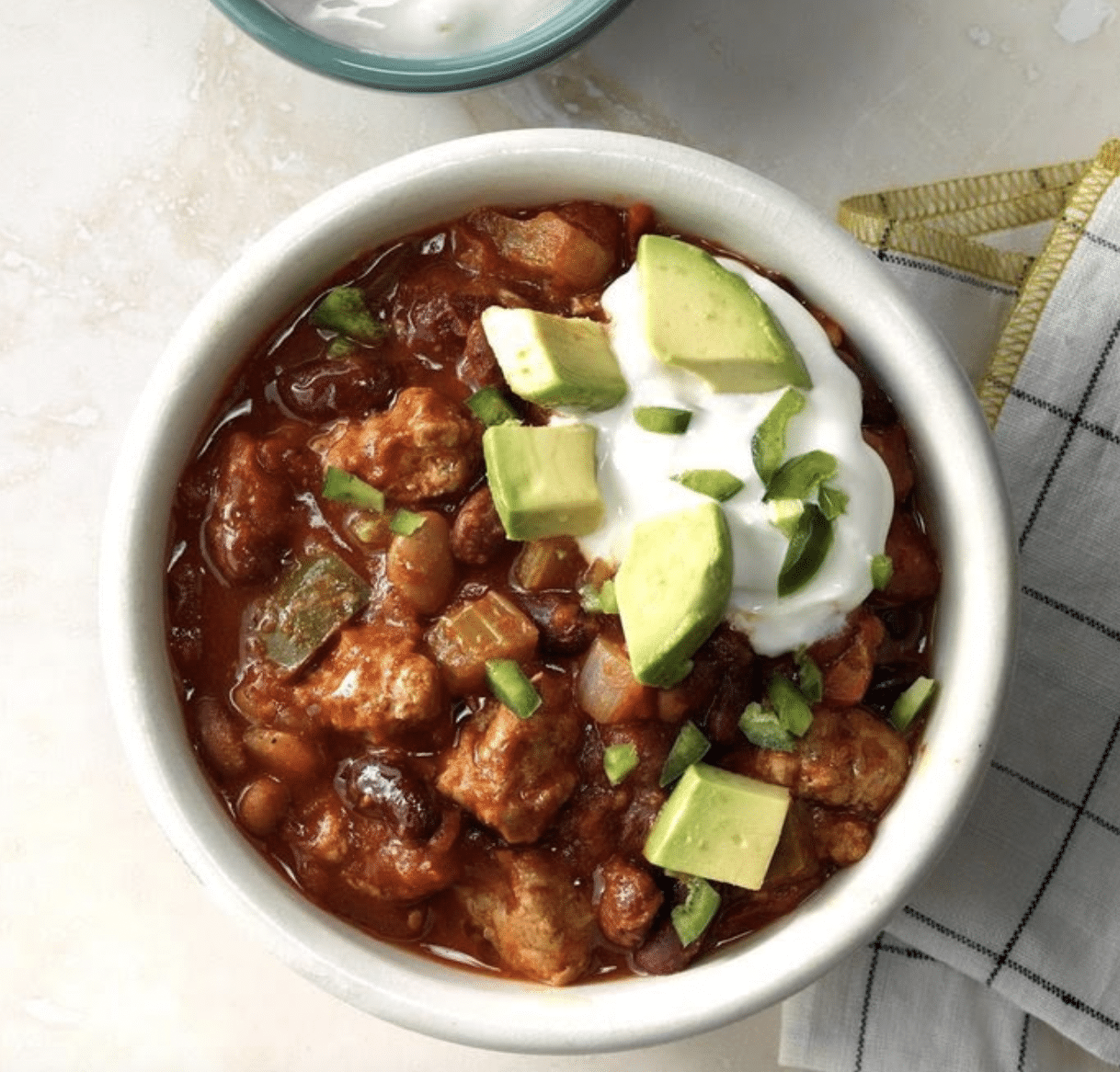 Vegan Buffalo Bites + Blue Cheese Dressing
1 cup water or soy milk (or 1/2 cup of each)
1 cup flour (any kind of flour will work – even gluten-free!)
2 tsp garlic powder
1 head of cauliflower, chopped into bite-size pieces
1 cup buffalo or hot sauce*
1 Tbsp olive oil or melted vegan margarine
Dressing Ingredients
1/4 block of firm or extra firm tofu
dash of garlic powder
1 cup of vegan mayonnaise
1/4 tsp tahini (sesame seed paste)
fresh lemon juice
apple cider vinegar
Directions for Buffalo Bites
Preheat oven to 450°. Combine the water and/or soy milk, flour and garlic powder in a bowl and mix well.
Grease a shallow baking dish/pan with cooking spray or vegetable oil.
Dip each piece of cauliflower into the flour mixture, let the excess drip off and place it in the greased baking dish. Bake for 18 minutes.*
Mix the buffalo sauce and olive oil or vegan margarine in a small bowl.
Pour the hot sauce mixture over the baked cauliflower and continue baking for another 5 to 8 minutes.
Directions for Blue Cheese Dressing
In a medium-size bowl, mix all ingredients except the tofu. Mix until it has a nice, smooth consistency.
Crumble tofu. These will be the 'lumps' in your dressing. Add tofu to the dressing mixture and stir until combined.
Recipe courtesy of 86 Lemons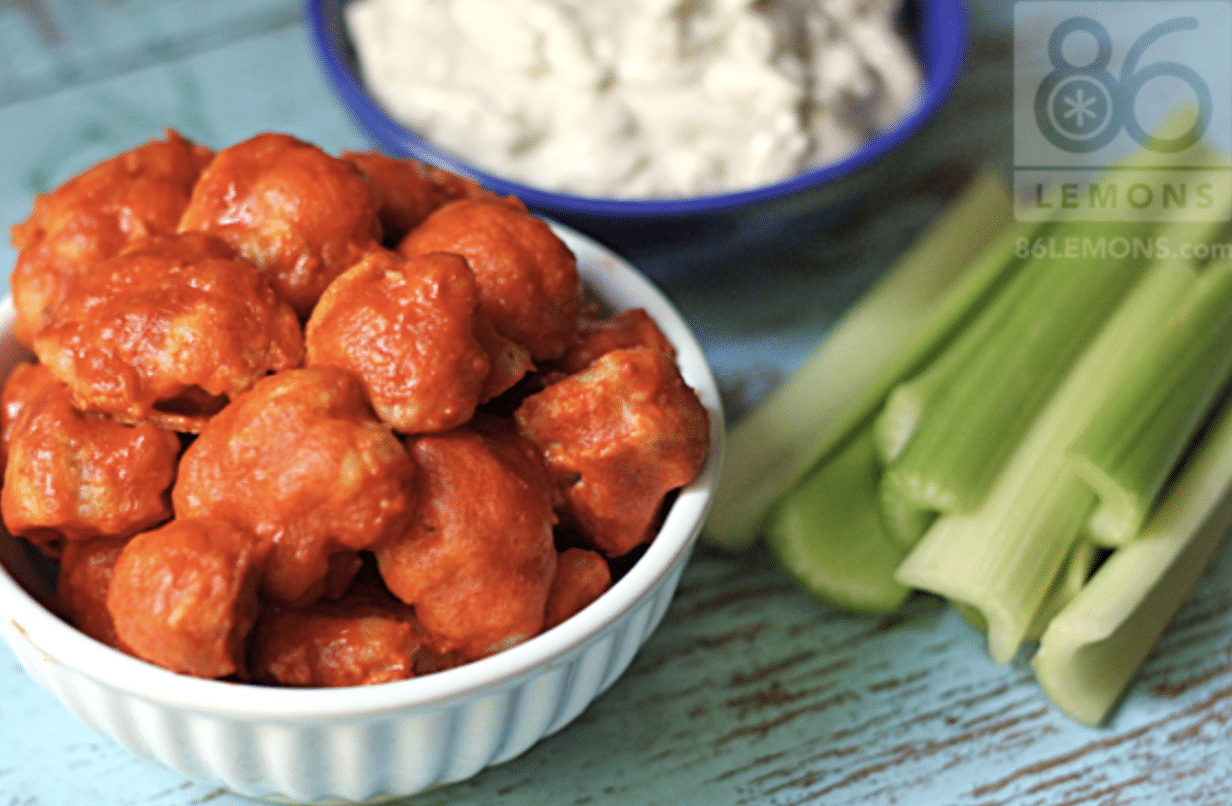 Southwest Vegetarian Bake
3/4 cup uncooked brown rice
1-1/2 cups water
1 can (15 ounces) black beans, rinsed and drained
1 can (11 ounces) Mexicorn, drained
1 can (10 ounces) diced tomatoes and green chiles
1 cup shredded reduced-fat cheddar cheese
1 cup salsa
1 cup reduced-fat sour cream
1/4 teaspoon pepper
1/2 cup chopped red onion
1 can (2-1/4 ounces) sliced ripe olives, drained
1 cup shredded reduced-fat Mexican cheese blend
In a small saucepan, bring rice and water to a boil. Reduce heat; simmer, covered, until rice is tender, 35-40 minutes.
Preheat oven to 350°. Place beans, corn, tomatoes, cheddar cheese and rice in a large bowl; stir in salsa, sour cream and pepper. Transfer to a shallow 2-1/2-qt. baking dish coated with cooking spray. Sprinkle with onion and olives.
Bake, uncovered, 30 minutes. Sprinkle with Mexican cheese; bake, uncovered, until heated through and cheese is melted, 5-10 minutes. Let stand 10 minutes before serving.
Recipe courtesy of Taste of Home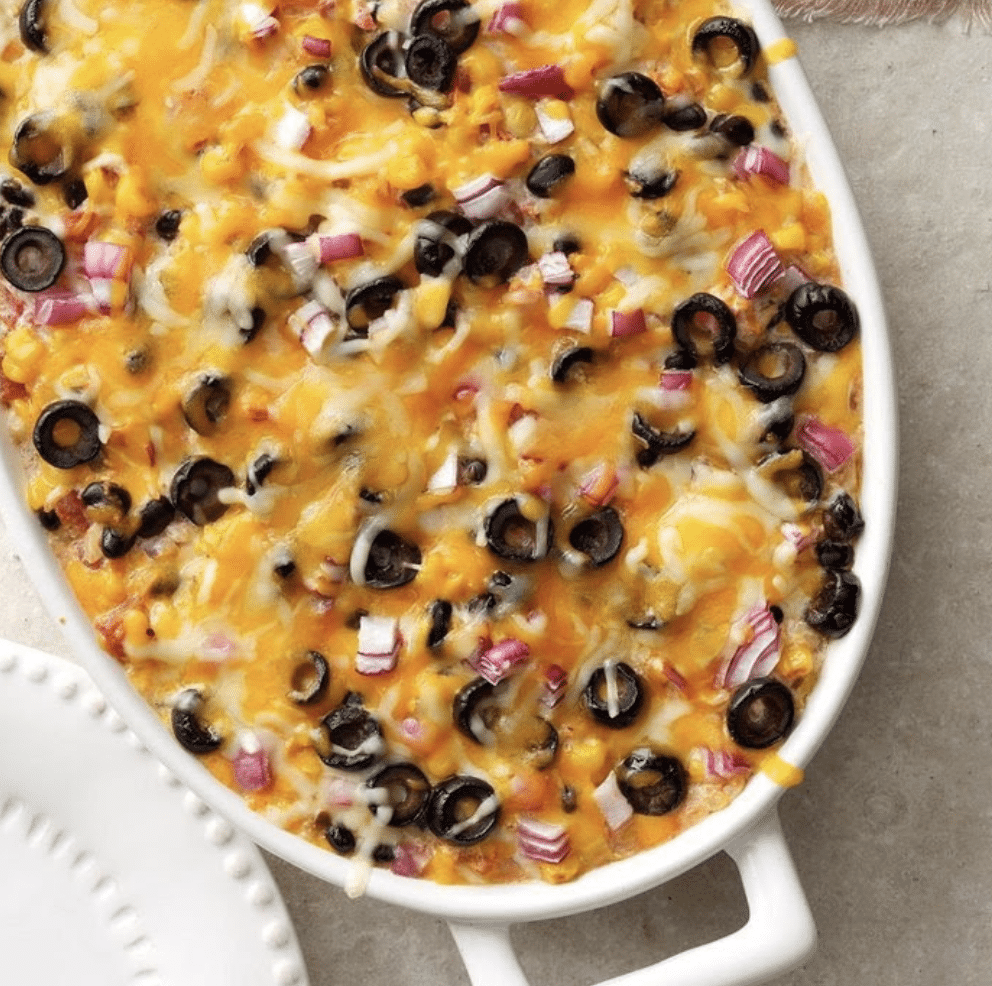 Grilled Stuffed Jalapeños
 2 center-cut bacon slices
4 ounces cream cheese, softened (about 1/2 cup)
4 ounces fat-free cream cheese, softened (about 1/2 cup)
1 ounce extra-sharp cheddar cheese, shredded (about 1/4 cup)
¼ cup minced green onions
1 tsp fresh lime juice
¼ tsp kosher salt
1 small garlic clove, minced
14 jalapeño peppers, halved lengthwise and seeded
Cooking spray
2 Tbsp chopped fresh cilantro
2 Tbsp chopped seeded tomato
Preheat grill to medium-high heat.
Cook bacon in a skillet over medium heat until crisp. Remove bacon from pan; drain on paper towels. Crumble bacon.
Combine crumbled bacon, cheeses and the next 4 ingredients (through garlic) in a bowl, stirring well to combine. Divide cheese mixture evenly to fill the pepper halves.
Place peppers, cheese sides up, on grill rack or grill grate coated with cooking spray. Cover and grill peppers for 8 minutes or until bottoms of peppers are charred and cheese mixture is lightly browned.
Place peppers on a serving platter. Sprinkle with cilantro and tomato.
Recipe courtesy of My Recipes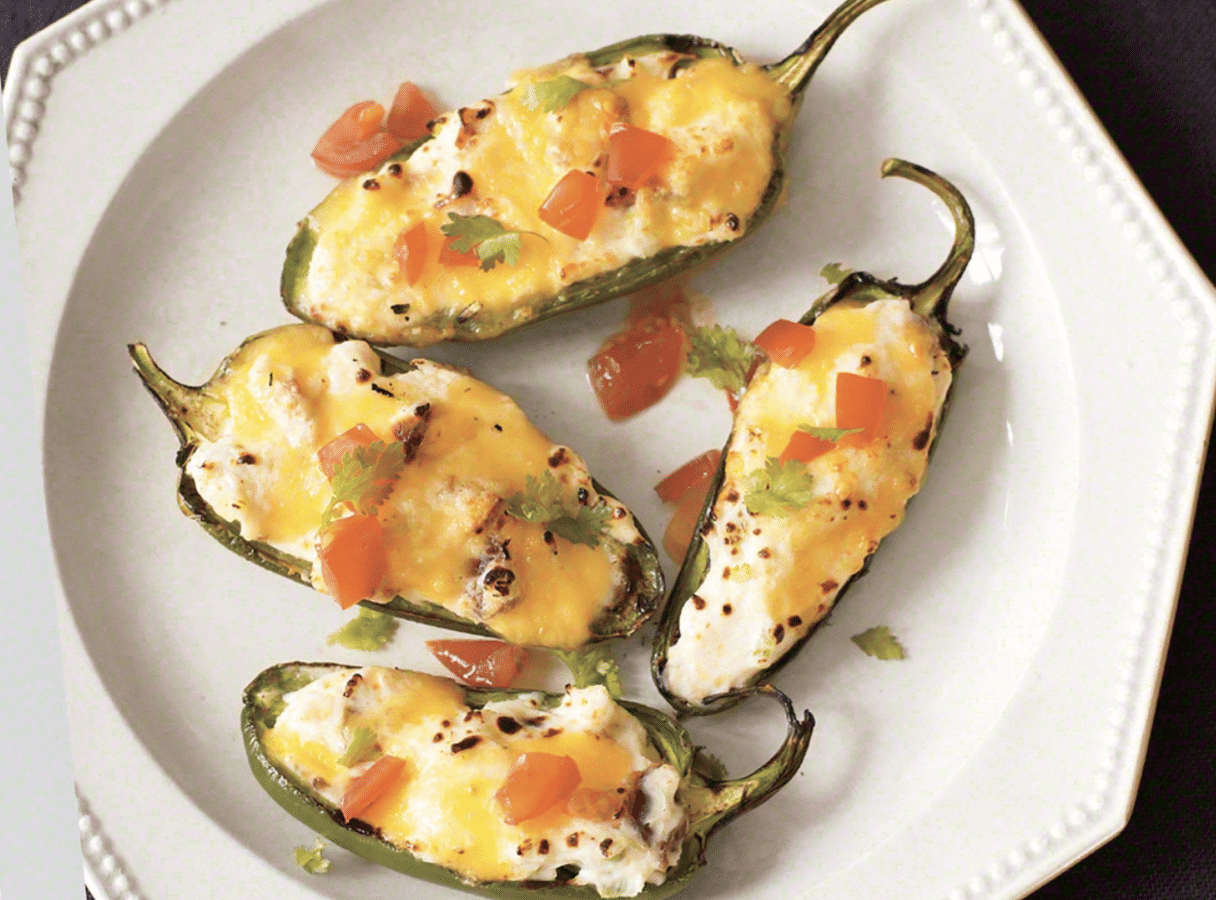 Mini Cauliflower Pizza Bites
2 cups Cauliflower rice
1 Egg
1/4 cup Parmesan cheese
1 tsp Italian seasoning
1/4 tsp Garlic powder
1/4 cup Pepperoni
Preheat oven to 425. Line 14 mini muffin cups with silicone liners, or foil muffin liners with paper liners removed. Spray liners with non-stick cooking spray. Set aside.
Place the cauliflower rice in a microwave-safe bowl and microwave for about 5 minutes, just until tender. (No need to cover or add water).
Remove cauliflower rice from the microwave and add the rest of the ingredients. Stir to combine. Place back in the microwave for 2 minutes. Mix again.
Scoop cauliflower mixture into muffin tins, dividing evenly between the 14 mini liners. Fill to the top and press filling down so it's compact.
Place muffin tin in the oven and bake for 30-35 minutes, or when the top starts to become golden brown. Remove from the oven, let cool completely before popping the muffins out of the liners. Serve warm with pizza sauce for dipping!
Recipe courtesy of Dashing Dish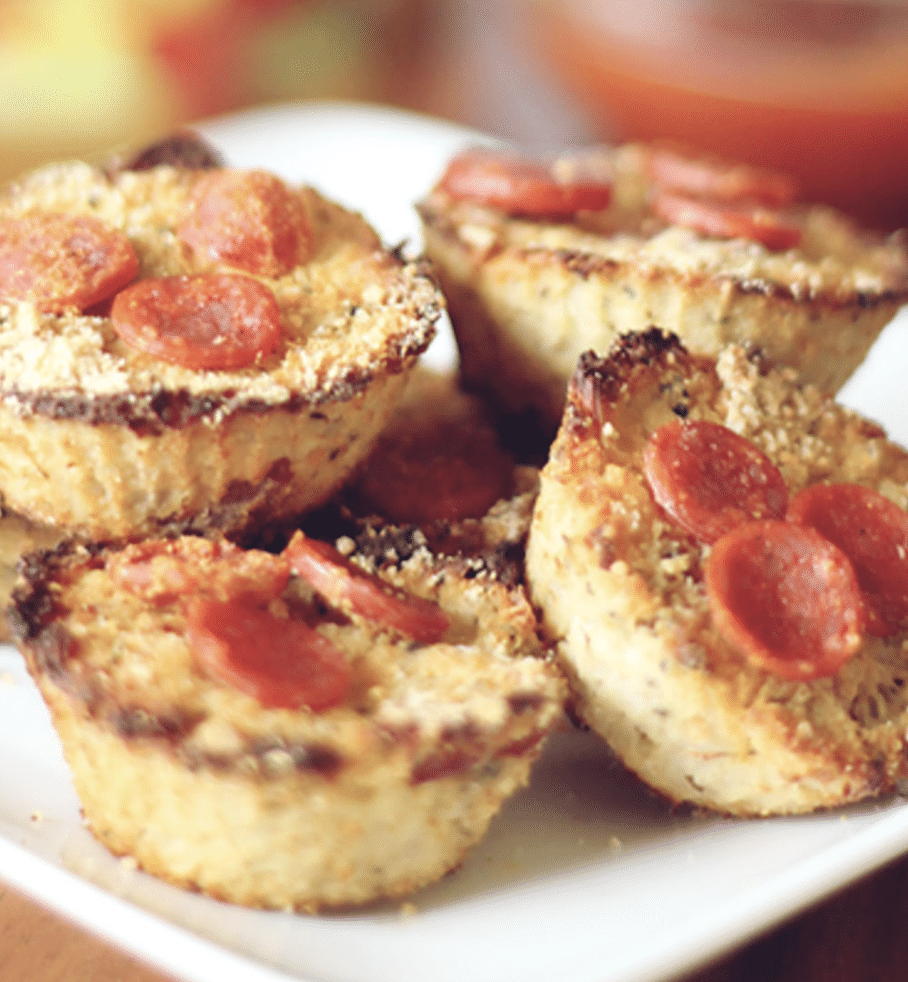 Smoky Carrot Dogs with Nacho Sauce
¾ cup raw cashews
8 large carrots, rinsed
2 Tbsp canola oil
1 Tbsp reduced-sodium tamari or soy sauce
2 tsp liquid smoke (optional)
1 ½ tsp smoked paprika
1 tsp garlic powder
1 tsp onion powder
¼ cup jarred salsa
¼ cup unsweetened almond milk
3 Tbsp nutritional yeast
¼ tsp cayenne pepper
¼ tsp ground cumin
¼ tsp ground turmeric
¼ tsp kosher salt
1 Tbsp water
8 whole-wheat hot dog buns, lightly toasted
2 small jalapeños, thinly sliced
¼ cup diced red onion
Place cashews in a bowl with water to cover by 1 inch. Let stand 8 hours or overnight.
Preheat oven to 450°F. Line a 13- x 9-inch baking dish with aluminum foil. Trim ends from carrots to fit hot dog buns. Using a vegetable peeler, peel carrots, and round edges to create a hot dog shape.
Place oil, tamari, liquid smoke (if desired), paprika, garlic powder and onion powder in a small bowl. Stir with a whisk. Place carrots in a single layer in prepared baking dish. Pour oil mixture over carrots; rub to coat on all sides. Bake at 450°F for 35 minutes, tossing every 15 minutes.
Drain cashews. Place cashews, jarred salsa, almond milk, yeast, cayenne pepper, cumin, turmeric and salt in a high-powered blender. Process until creamy, 2 to 3 minutes. Stir in up to 1 tablespoon water, 1 teaspoon at a time, until desired consistency is reached.
Place 1 roasted carrot in each bun. Top each with 2 tablespoons nacho sauce; top evenly with jalapeño slices and diced red onion.
Recipe courtesy of Cooking Light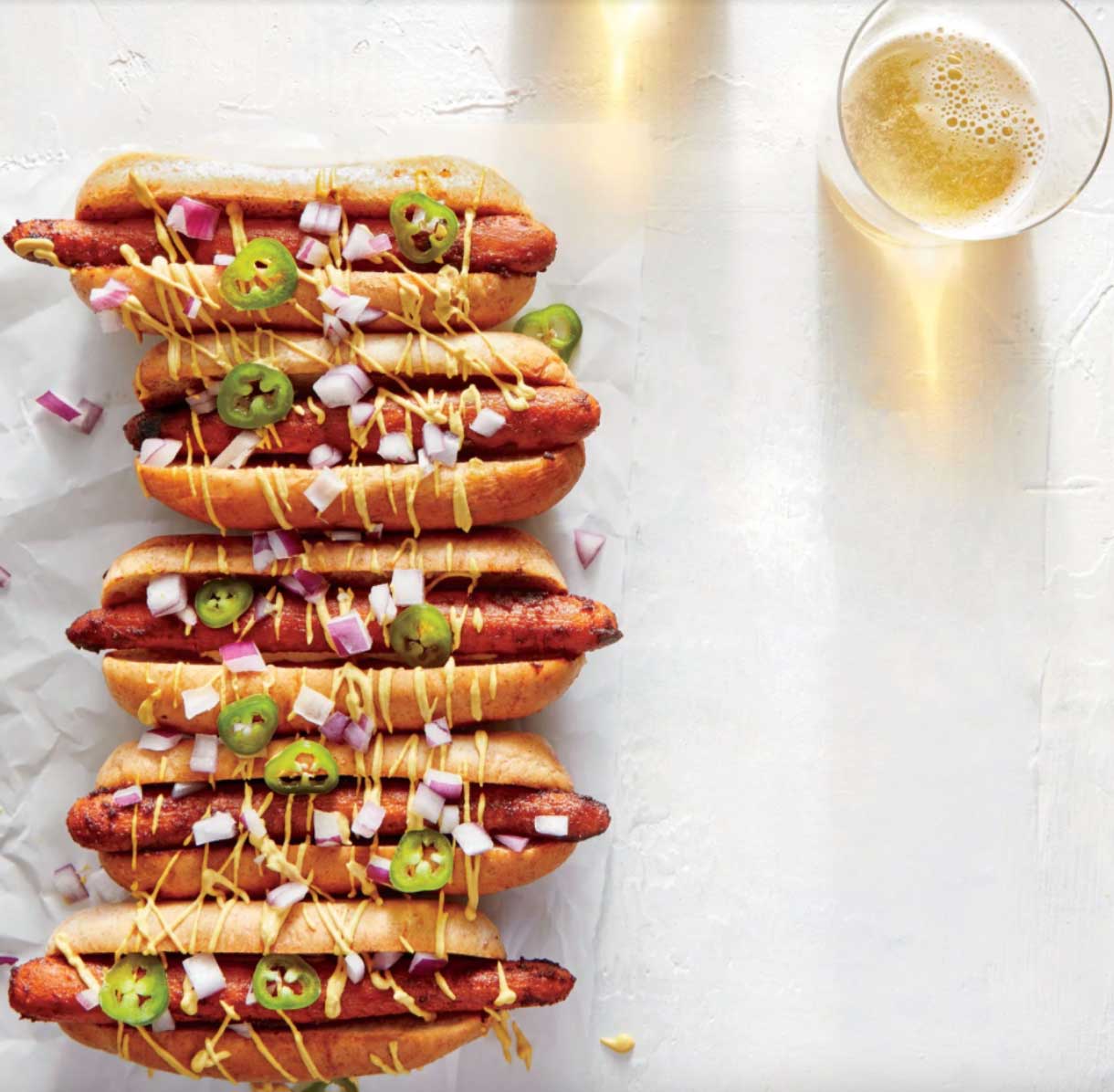 Buffalo Yogurt Chicken Dip
8 oz cream cheese
2 cups canned chicken breast
1/3 cups Frank's Buffalo Wings Sauce (NOT Frank's Original)
1/2 cup plain Greek yogurt
2 Tbsp mayo
2 tsp granulated garlic powder
1 tsp granulated onion powder
2 Tbsp chopped green onion
Place cream cheese in a bowl and microwave for 20 seconds or until soft.
Stir in chicken, Frank's, yogurt, mayo, seasonings and green onion. Stir well.
Heat up in the microwave for 30-45 seconds before serving, if desired.
Top with more chopped green onion.
Serve with celery sticks, carrots, etc.
Recipe courtesy of The Nutrition Addiction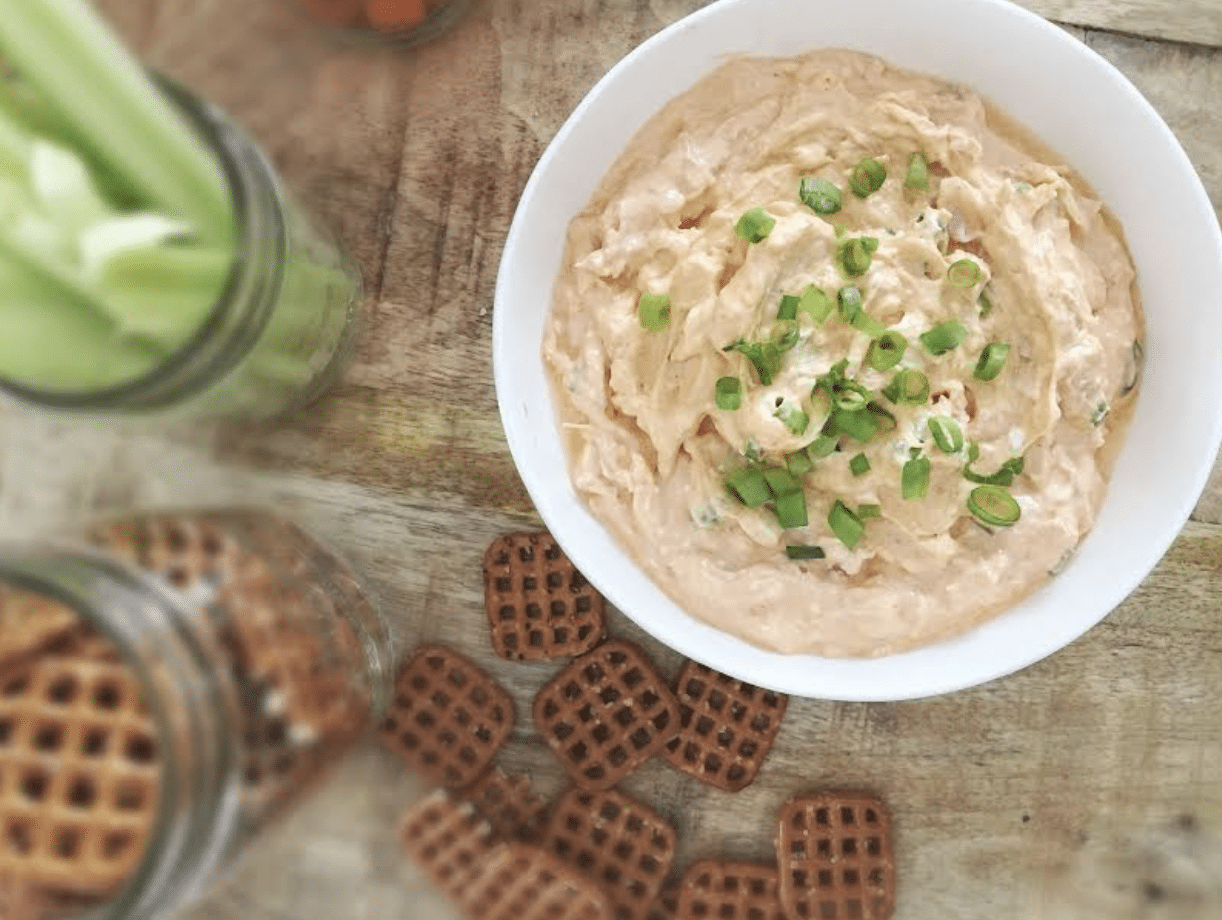 At KC Wellness we want you to feel good this football season on the inside and out! We are here to assist you with any and all of your fitness and health goals! For more information about our medical weight loss program, call us at 816-214-5276 or click here to see us! Go Chiefs!