Gobble gobble gobble, there's no need to waddle this Thanksgiving! As wonderful as Thanksgiving can be — from giving thanks to spending time with loved ones — it can also be stressful for people who are trying to reach their fitness and nutrition goals. That's why you need these recipes that are a little more healthy but just as delicious. Keep reading for ways to make Thanksgiving healthier!
Healthy Appetizers for Thanksgiving
A fall take on a healthy, delicious appetizer loved by all?! Count us in! Try this Creamy Pumpkin Hummus courtesy of Ahead of Thyme!
1 (400 ml) can chickpeas,

drained and rinsed but

reserve canned water

3 tablespoons reserved canned water

⅔ cup pumpkin puree

¼ cup tahini sesame paste

1 clove garlic,

roughly chopped

2 tablespoons olive oil

2 tablespoons lemon juice

(approximately juice from ½ lemon)

1 teaspoon maple syrup

½ teaspoon salt, or to taste
Toppings:
Chickpeas

Sesame seeds

Fresh herbs

Olive oil
Add all ingredients into a heavy-duty blender and pulse mix until fully combined and creamy. You may want to reserve a few of the chickpeas to add on top. 

Transfer to a dipping bowl. Add some chickpeas, sesame seeds and fresh herbs on top, and drizzle on some olive oil. Serve with crackers, pita bread, naan flatbread, fruit or veggies.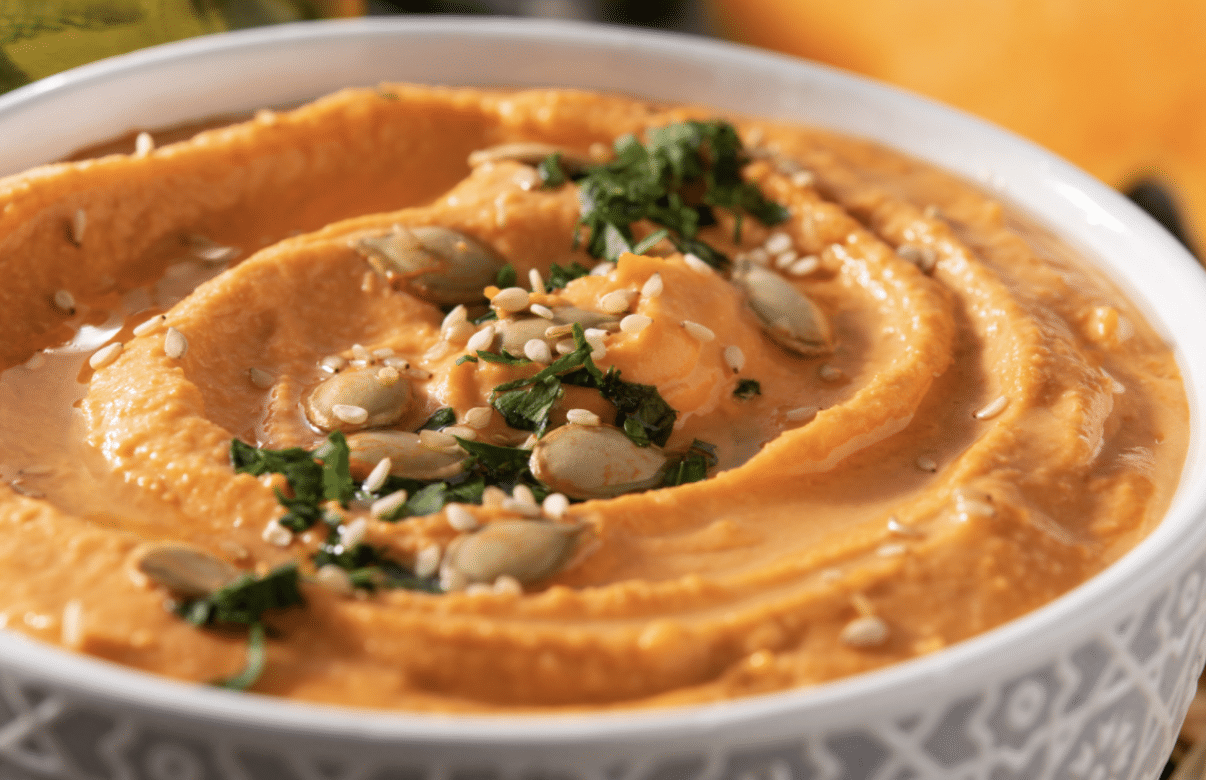 Looking for a last-minute appetizer or side dish? With only 10 minutes of prep, these Vegetarian Stuffed Mushrooms by Ahead of Thyme are the perfect quick fix for your hungry guests?
24 large crimini brown mushrooms

1 teaspoon olive oil

1 teaspoon onion powder

1 cup bread crumbs

½ cup fresh parmigiano reggiano (parmesan cheese)

2 cloves garlic, minced

1 tablespoon parsley

1 teaspoon Italian seasoning

½ teaspoon salt

½ teaspoon ground black pepper
Preheat oven to 350 F.

Remove stems from mushrooms and place mushroom caps on a lined baking tray. 

Combine the remaining ingredients in a blender or food processor. Also, add half the stems from the mushrooms. Blend until fully combined.

Scoop mixture into mushroom caps.

Place in oven and bake for 20 minutes, or until the tips of the mixture starts to brown.
Healthy Thanksgiving Side Dish Recipes
Feast your eyes on little bites of heaven. Not only are these Vegetarian Butternut Squash Ravioli courtesy of  Eat This, Not That filled with a healthy seasonal vegetable, but they'll leave your guests wanting more! 
1 can (16 oz) butternut squash or pumpkin puree

1⁄2 tablespoon balsamic vinegar

Pinch of ground nutmeg

2 tablespoon grated Parmesan, plus more for garnish

Salt and black pepper to taste

48 wonton wrappers

2 egg whites, lightly beaten

4 tablespoon butter

16 fresh sage leaves, plus more garnish
Bring a large pot of water to a boil over high heat. Mix the squash, vinegar, nutmeg and Parmesan; season with salt and pepper.

Working on a clean floured surface, lay down a single wonton wrapper and place a small spoonful of the squash mixture in the center, being careful not to overstuff.

Paint the edges of the wrapper with the egg whites, then top with another wonton wrapper. Press firmly around the edges with your fingers to secure the filling inside the ravioli.

Repeat with the remaining wrappers to create 24 ravioli.

Salt the boiling water and turn down the heat to medium so that it's gently boiling.

Carefully drop in the ravioli and cook for 3 minutes, then drain.

In the meantime, heat a large skillet or sauté pan over medium heat and add the butter and sage.

Cook until the butter is lightly brown and begins to give off a nutty aroma. (Do this carefully, as you don't want the butter to burn.)

Add the cooked ravioli to the pan, tossing gently to make sure they don't break. Divide among 4 warm plates and garnish with Parmesan and sage.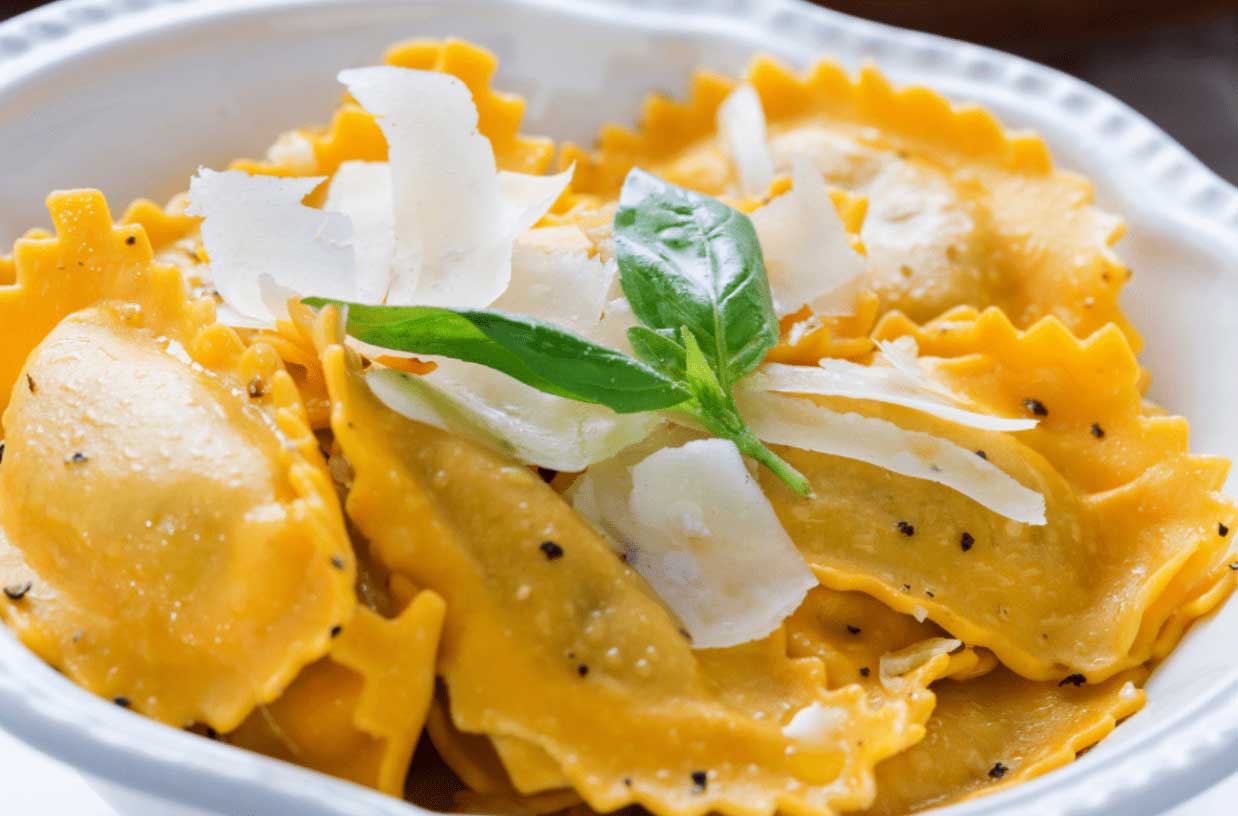 Eat more mashed potatoes with less guilt! This Pumpkin Potato Mash from Eat This, Not That is a fall take on a classic Thanksgiving side! 
2 lb. russet potatoes, peeled and cut into 2-inch pieces

6 cloves garlic, peeled

3/4 cup canned pumpkin

1/4 cup light sour cream

1/2 teaspoon salt

1/4 teaspoon black pepper

extra-virgin olive oil

chopped fresh chives
In a 3- to 4-qt. saucepan, cook potatoes and garlic, covered, in enough boiling lightly salted water to cover.

Cook for 20 to 25 minutes, or until tender; drain. Return potatoes to a hot pan.

Add pumpkin; mash until light and fluffy. Stir in sour cream, salt and pepper. Drizzle individual servings with olive oil, and sprinkle with chives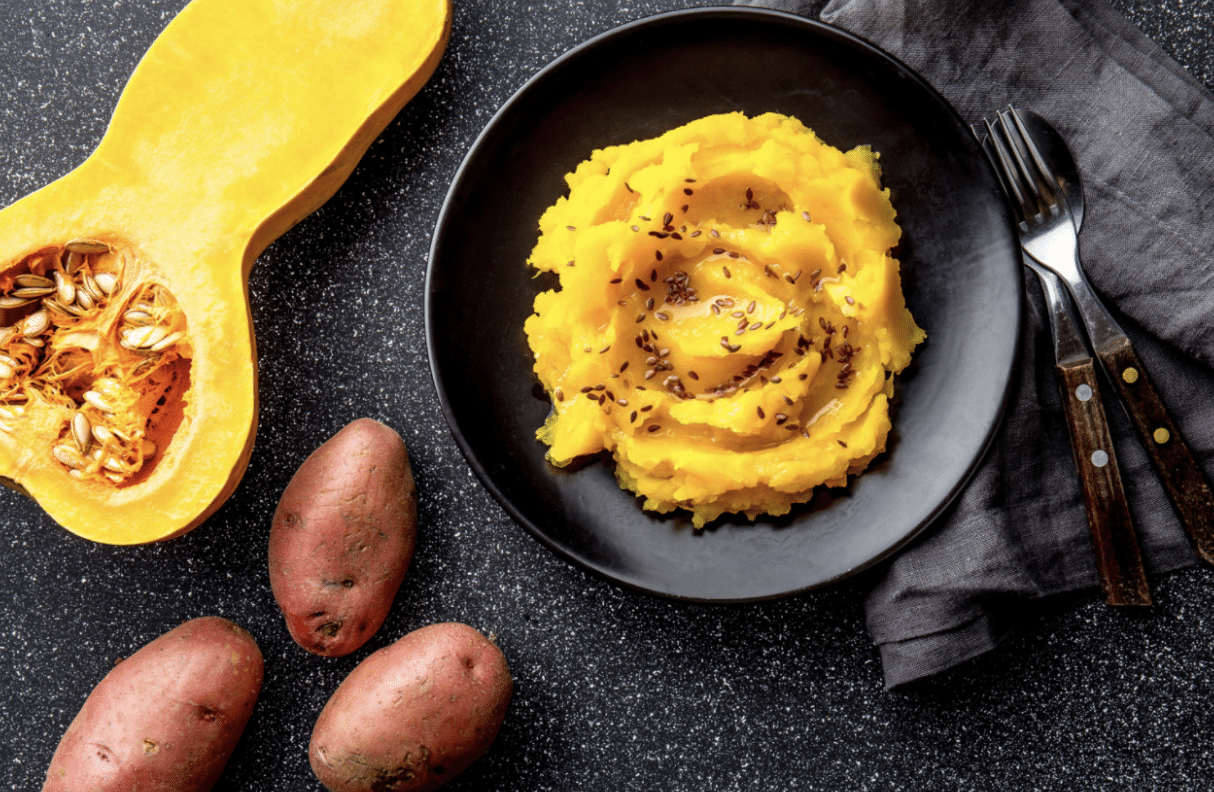 You can never have too many sides — especially when they're this healthy! Try these Vegetarian-Friendly Stuffed Tomatoes from Eat This, Not That for a vegetarian take on a favorite! So tasty enough the whole family will enjoy!
4 medium beefsteak or other round tomatoes

1 cup panko bread crumbs

1⁄2 cup fresh goat cheese or feta

1⁄4 cup chopped fresh basil

1 tablespoon olive oil

2 teaspoon finely minced garlic

Salt and black pepper to taste
Preheat the oven to 400°F.

Cut the tops off the tomatoes and use a spoon to scoop out the core and seeds and discard.

In a mixing bowl, combine the bread crumbs, cheese, basil, olive oil and garlic and season with salt and black pepper.

Stuff the tomatoes with the mixture.

Place the tomatoes in a baking dish and bake for about 20 minutes, until the bread crumbs are golden brown and the tomatoes are lightly caramelized.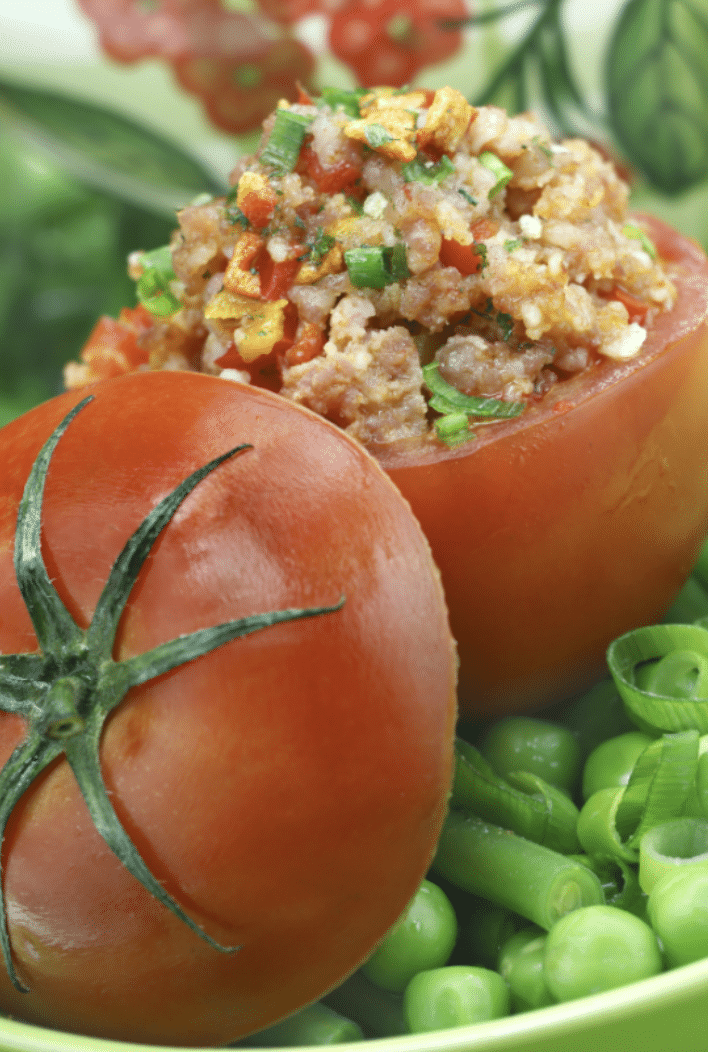 Devour These Desserts, Guilt-Free
There's always room for dessert, especially desserts this light! Pumpkin Pie Parfait with Coconut Whipped Cream by Evergreen Kitchen is a fun way to enjoy a classic.
1 can pure pumpkin puree (15 oz / 425 g)*

5 tablespoons maple syrup

1/2 teaspoon cinnamon

1/4 teaspoon nutmeg

1 pinch of ground cloves

1 pinch of salt

2 teaspoons ground chia

1 teaspoon orange zest

3 ginger-molasses cookies (homemade or store-bought)
Coconut whipped cream:
2 cans coconut milk (13.5 oz / 385 g can), refrigerated overnight or ideally ~24 hours**

3/4 teaspoon vanilla extract

2-3 tablespoons maple syrup (to taste)
In a medium-sized bowl, combine pumpkin puree, maple syrup, cinnamon, nutmeg, ground cloves and salt. Whisk thoroughly, until smooth. Add ground chia and orange zest. Whisk vigorously for 1-2 minutes to ensure the chia is evenly distributed. Cover with plastic wrap and place in the fridge overnight.

The next day, place beaters and freezer-safe mixing bowl in a freezer ~20 minutes before serving. If your mixing bowl can't go in the freezer, place it in the fridge instead for a bit longer. It helps the cream whip up.

Remove beaters and bowl once chilled. Open the cans of coconut milk. The thick coconut flesh/ fat should have separated from the liquid. Scoop out the coconut solids, and add to the mixing bowl. Set aside any remaining liquid (store for another use). Using electric beaters, beat the coconut cream on medium-high speed. It should take 1-2 minutes to fluff up. Add the vanilla extract and maple syrup, to taste. Beat for another 30 seconds to incorporate.

Remove the pumpkin mixture from the fridge and whisk for 1 minute to fluff it up. Take a quarter of the whipped cream and add it to the chilled pumpkin mixture. Fold in gently to incorporate. The balance of the whipped cream will be used for the whipped cream layer.

To assemble, alternate layers between pumpkin, whipped cream and crumbled cookies. Serve immediately.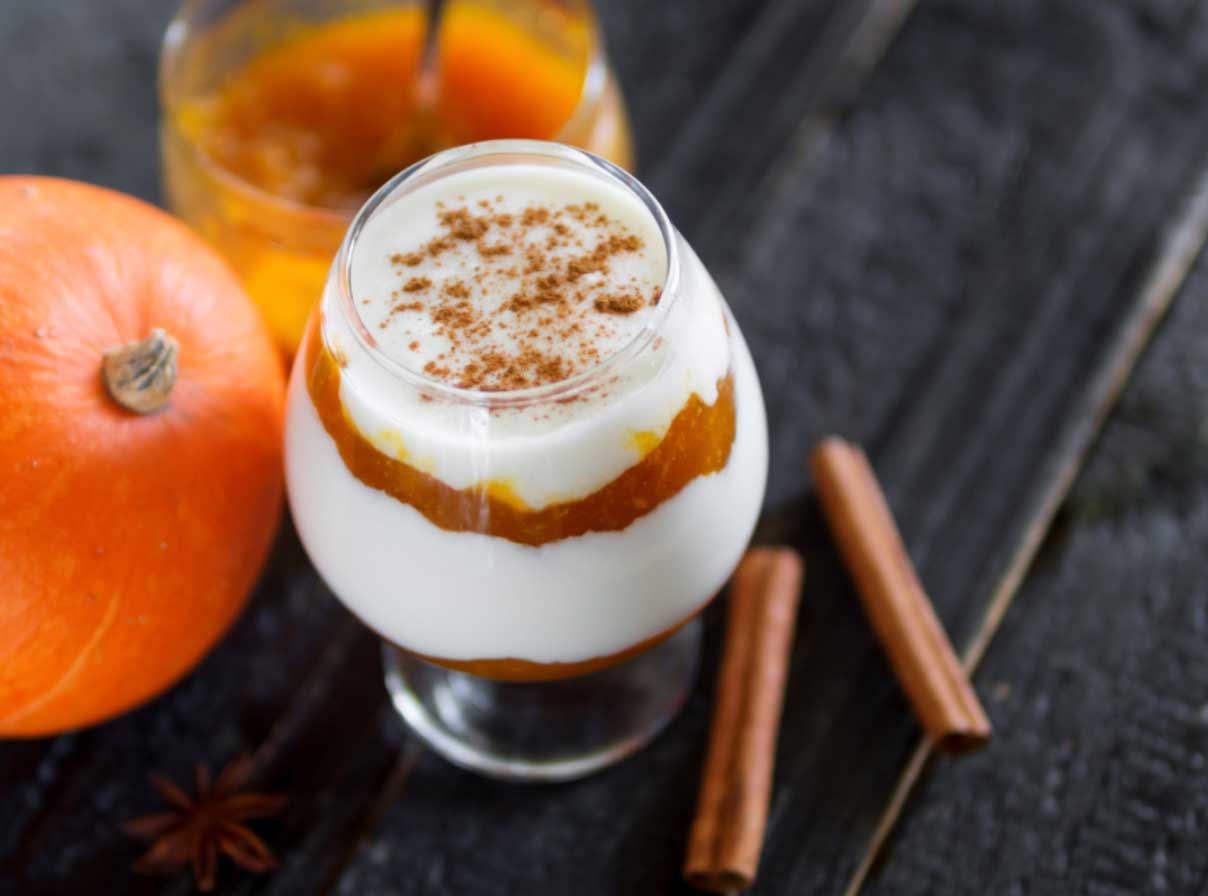 Who said you need sugar for a sweet and satisfying dessert? This Paleo Pecan Pie courtesy of Bakerita won't steer you wrong.
For the crust:
2 cups blanched almond flour

¼ teaspoon sea salt

⅓ cup coconut oil,

solid

2 tablespoons coconut sugar

1 egg,

beaten
For the filling:
¾ cup coconut sugar

¼ cup pure maple syrup

⅓ cup coconut oil, melted

2 eggs,

room temperature

1 tablespoon blanched almond flour

1 tablespoon almond milk

or any non-dairy milk

1 teaspoon vanilla extract

2 cups pecans,

roughly chopped
For the crust:
In a medium bowl, stir together the almond flour, coconut sugar and salt. Add in the coconut oil and using a fork (or your fingers), cut into the almond flour until the coconut oil is mostly incorporated. Stir in the egg until the dough is slightly moist and forms a ball. There may be streaks of coconut oil running through your dough.

Press the dough into a disk and wrap it in plastic wrap. Place in the freezer while you prepare the filling, or place in the refrigerator if not used immediately (can keep in the fridge for up to 1 week).

When ready to bake, roll out your dough in between two sheets of parchment into a 12-inch circle. Lay dough into a 9-inch pie dish (not a deep dish).
For the filling:
Preheat the oven to 325°F.

In a large bowl, beat the eggs until slightly foamy. Stir in maple syrup, coconut sugar and coconut oil. Whisk together until fully combined. Stir in the almond flour, almond milk and vanilla. Add the pecans and stir until they are fully coated.

Pour the mixture into the prepared pie dough. Bake in the preheated oven at 325°F and bake for 45-50 minutes, or until the top no longer jiggles in the center. Cool completely in the refrigerator before slicing and serving.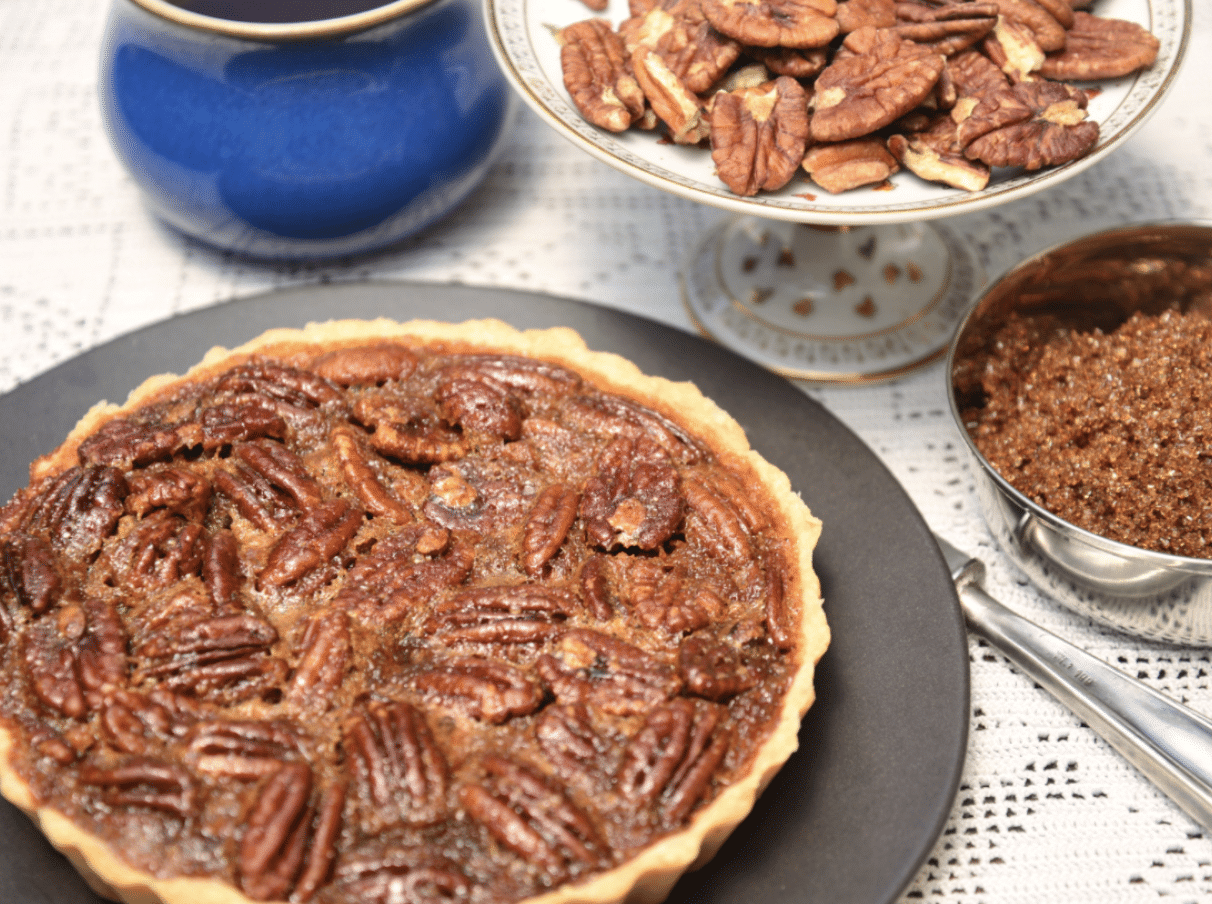 Pumpkin, Pecan and Apple — the Thanksgiving dessert trifecta. Try this Spiralized Apple Crumble courtesy of The Healthy Maven to even out your healthy dessert selection.
9 medium red apples of choice – spiralized on the 2nd largest setting*

1 teaspoon cinnamon

1/3 cup coconut sugar (or brown sugar)

juice, 1/2 orange

zest, 1 orange
For the crumble:
1 cup almond meal

1 cup rolled oats

1/3 cup coconut sugar (or brown sugar)

1 teaspoon cinnamon

1/4 cup coconut oil (room temp – not melted)

pinch of salt

optional: a pinch of nutmeg
Preheat oven to 350 degrees F.

Spray a 9 x 13-inch baking dish with coconut oil spray.

Place spiralized apples in a large bowl and top with cinnamon, coconut sugar, orange juice and zest.

Spread out in the baking dish.

Add almond meal, rolled oats, coconut sugar, cinnamon, salt and nutmeg if used to bowl and stir.

Place coconut oil in a bowl and using hands mix crumble mixture together until crumbly. Don't be afraid to get in there and dirty!

Sprinkle crumble mixture on top of apples.

Bake for 40 minutes.

Serve warm.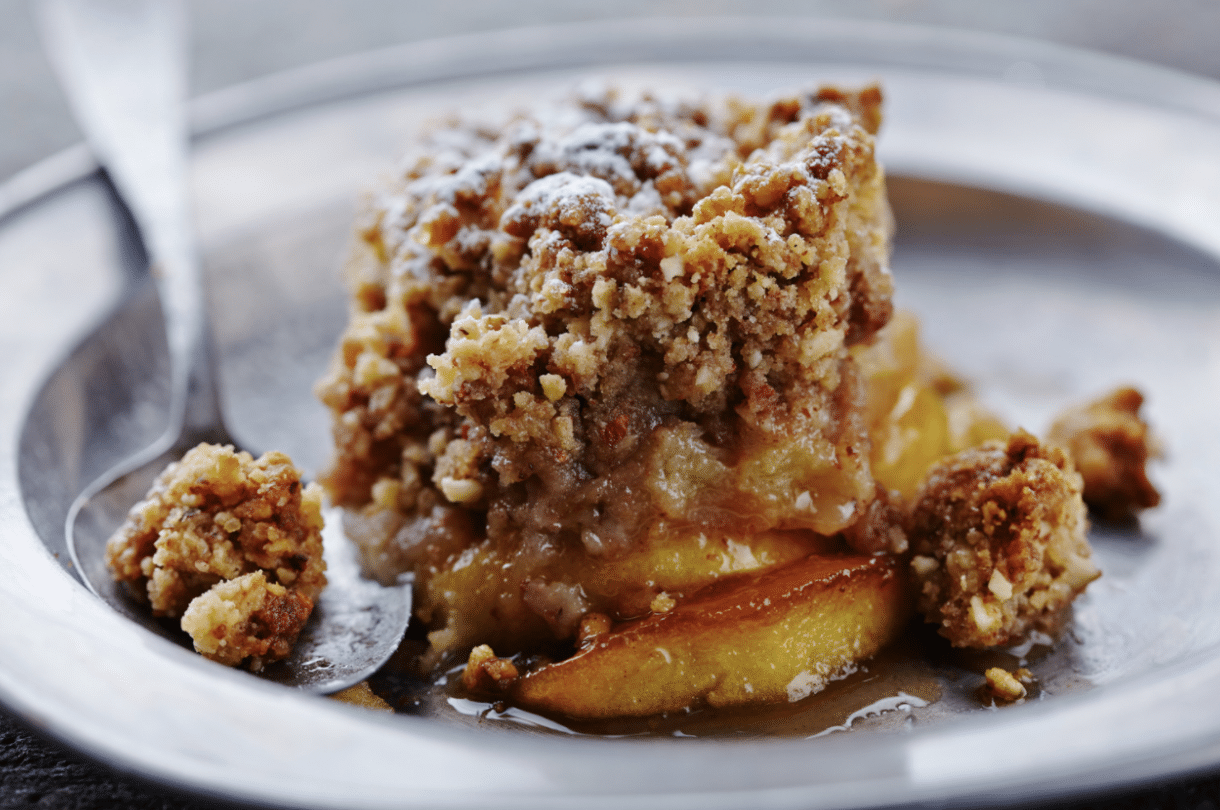 At KC Wellness, we want you to feel good this holiday season on the inside and out! We are here to assist you with any and all of your fitness and health goals! For more information about our medical weight loss program, call us at 816-214-5276 or click here to see us.