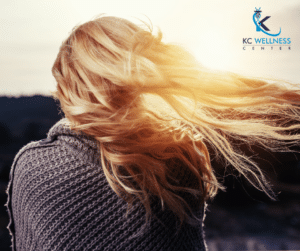 Whether it's a gradual thinning on top of the head, a sudden loosening of hair or patchy bald spots, hair loss can show itself in many different ways. No matter how it appears, If you're one of the millions of men and women struggling to grow luscious locks, you know it can be a challenge. Read on for five natural remedies to help restore growth and enhance the hair you already have.
1. Massage: Stimulating the scalp through massage can prompt your hair follicles to grow newer, thicker strands — especially when used together with oils and masks. A nice, relaxing scalp massage can also help relieve tension and stress.
2. Coconut Milk/Oil: One of the leading causes of hair loss is a dry, damaged scalp, and coconut is known for its moisturizing ability. To prevent fall-out, try massaging coconut milk or oil into your roots and letting it sit for 10 minutes a day.
3. Aloe Vera: Aloe vera creates a healthy environment for hair to grow by soothing and calming a damaged scalp. It also helps clear out sebum, an oil that clogs follicles and prevents hair from growing back. Try massaging pure aloe vera gel directly on your scalp. You can also find an aloe vera-based shampoo.
4. Onion: Studies have shown that onion juice helps stimulate the growth of hair follicles by improving circulation. Onions also promote collagen growth, and they contain antibacterial properties that treat scalp infections. Simply blend a few onions and squeeze out the juice. You can then add the juice to your scalp and hair and leave in for at least 15 minutes. Be sure to then shampoo normally to help wash out the smell.
5. Rosemary Oil: Rosemary is an essential oil with strong antiseptic properties, meaning it can help treat flaky scalp, dandruff and infections. Try mixing a few drops of rosemary oil with another oil (like coconut) and massaging it into your hair and scalp before rinsing. Doing this a few times a week has been shown to help promote hair growth.
If you struggle with hair loss, our platelet-rich plasma therapy (PRP) can help you get to the root of the problem! This treatment is safe and reliable, and it works wonders in promoting new hair growth. Call us today at (816) 214-5276 to schedule a free consultation or find out if you are a candidate for PRP therapy for hair loss.
Disclaimer: KC Wellness Center does not endorse any of the above, natural methods. All recommended methods, excepting our platelet-rich plasma therapy (PRP), have been sourced from healthline and Reader's Digest.