As we transition into the new normal, your shopping habits may be one thing that has changed. Instead of grocery shopping every week, social distancing may mean fewer trips to the store for food. To be able to get in and out as effectively as possible, it is important to make a list so you know exactly what you need. So get ready to take note of these mouth-watering recipes.
Monday 
Start your week refreshed with a spinach salad. Like any salad, you can add whatever you like to spice up the flavor, but we are going to share with you the ingredients we prefer to use for our spinach salad.
Ingredients: 11 oz organic baby spinach, 4 hard-boiled eggs, 1 cup grape tomatoes, 1 long cucumber, 2 cups mushrooms and 2 tbsp toasted sesame seeds
Ingredients for dressing: 1/3 cup extra virgin olive oil, 3 tbsp apple cider vinegar, 2 tbsp Dijon mustard and 2 tbsp soy sauce
Instructions: 
In a large salad bowl, add washed spinach, sliced hard-boiled eggs, halved tomatoes, sliced cucumber, sliced mushrooms and sesame seeds.

In a small jar, add the olive oil, apple cider vinegar, Dijon mustard and soy sauce. Tightly screw-on the lid and shake until it is well mixed.

Pour dressing over the salad before serving and toss gently. Serve immediately.
Tuesday 
Tuesday, or as we like to call it, Taco Tuesday, is the perfect day to add red bell peppers to your diet with a little twist. These veggies are rich in vitamin C along with beta carotene, which is great for helping keep your eyes and skin healthy! For this occasion, we are cutting out the carbs by serving Skinny Low-Carb Bell Pepper Tacos!
Ingredients (makes 8 tacos): 4 red bell peppers, 3/4 cup shredded cheese of choice, 1 lb lean ground beef or turkey, 1/2 onion minced, 1 tbsp olive oil or oil of choice, 1 taco seasoning packet and 1 cup water
Optional Toppings: 1 cup chopped lettuce, 1/2 cup chopped tomato, sliced jalapeños, 1 lime cut into wedges, sour cream or plain Greek yogurt, fresh avocado or guacamole, fresh minced cilantro and shredded cheddar or pepper jack cheese
Instructions: 
Preheat the oven to 400F.

Slice each bell pepper in half. Remove stem and seeds. Place peppers on a sheet pan and bake for 10-12 minutes.

While the peppers are roasting, brown onion in 1 tablespoon oil in a large, heavy-duty pan. When the onion starts to brown, add the ground meat. Crumble and stir meat for 2-3 minutes or until brown. Add taco seasoning and stir for 2 minutes. Next, add 1 cup of water and simmer mixture for 2-3 minutes. Remove from heat.

Fill each bell pepper with about 1/2 cup of taco meat mixture (or until full). Top with a sprinkle of cheese and return to the oven to bake for 20 minutes.

Remove from the oven and serve with your favorite toppings.
Wednesday 
This Wednesday night dinner will be calling for garlic! Garlic helps fight infection, lower blood pressure and slow down hardening arteries. So grab your slow cooker because you are making Crock-Pot Tuscan White Bean And Garlic Soup. 
Ingredients: 1 lb dry cannellini beans, rinsed; 1 head garlic, peeled; 8 cups water; 4 sage leaves, plus more for garnish 2 tsp olive oil; 1 tbsp chicken or vegetable bouillon; kosher salt and white pepper to taste
Instructions:
Place the beans, 3 garlic cloves, water and a few sage leaves in the slow cooker; cover and set to high for 4 hours or until the beans are soft. Don't add salt.

Meanwhile, preheat the oven to 400F.

Place the remaining garlic cloves in the center of a 7×7 inch square of aluminum foil.

Cover the garlic with olive oil and a little salt.

Seal the aluminum tightly to create a packet and place in the oven 25-30 minutes, until the garlic is soft and golden.

Remove from the oven and set aside until the beans are done.

When the beans are soft, add the bouillon and mix well until dissolved, then carefully transfer some of the beans and liquid along with the roasted garlic to the blender.

Blend until smooth and pour it back into the slow cooker.

Repeat with the remaining beans until you get the texture you desire.

Taste for salt and adjust as needed.

Serve topped with fresh sage and white pepper and if you wish, some whole roasted garlic cloves.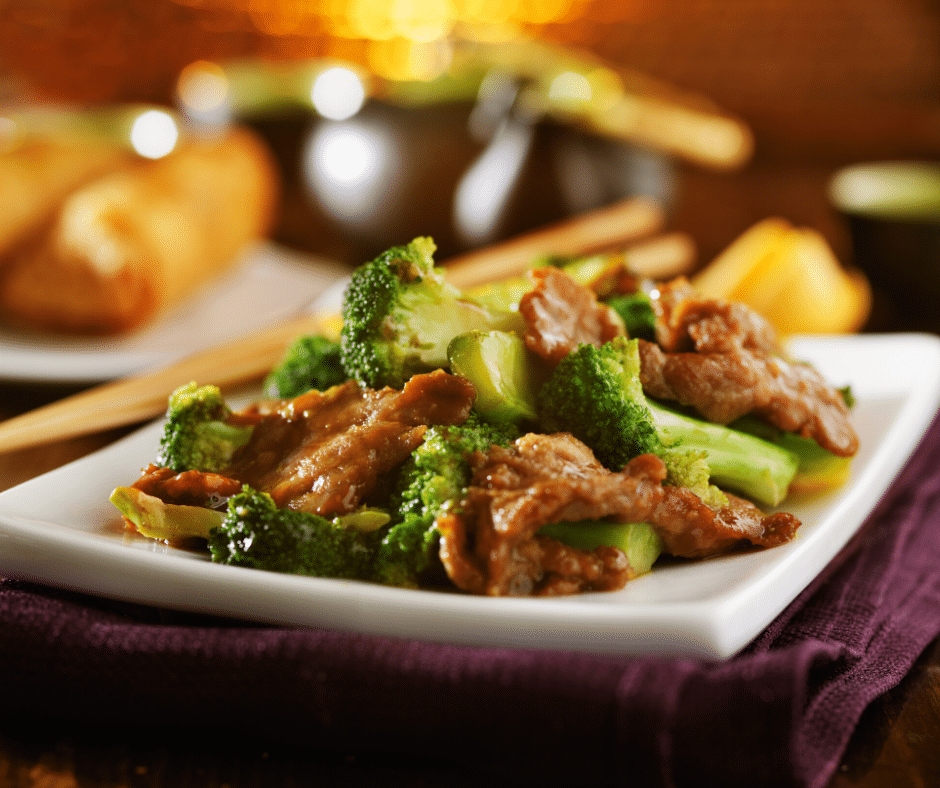 Thursday 
Did someone say broccoli? Get ready for a meal that is high in vitamins A, C and E and has a ton of antioxidants! Thursday is all about the duo of the Grilled Beef and Broccoli.
Ingredients: 6 garlic cloves, grated; 1 3-inch piece ginger, peeled and grated; ¾ cup oyster sauce; ¾ cup Shaoxing wine (Chinese rice wine); ¾ cup soy sauce; ¼ cup toasted sesame oil; 3 tbsp mild-flavored (light) molasses; 3 tbsp unseasoned rice vinegar; 1½ lbs flank steak; 2 medium heads of broccoli (about 1 lb), stems peeled, heads halved lengthwise; sliced scallions; toasted sesame seeds and cooked white rice (for serving).
Instructions:
Whisk garlic, ginger, oyster sauce, wine, soy sauce, oil, molasses and vinegar in a medium bowl. Place the steak in a large resealable plastic bag and add 2 cups marinade; set remaining marinade aside. Seal the bag, turning to coat, and let the steak marinate in the refrigerator at least 1 hour and up to 12.

Grill the steak over medium-high heat, turning occasionally, until charred. Transfer to a cutting board and let it rest for 10 minutes. Slice against the grain into ½" strips.

Meanwhile, stir ½ cup of the reserved marinade and ½ cup of water in a small bowl. Brush the broccoli all over with some of the thinned marinade. Grill over medium heat, turning occasionally and basting frequently with thinned marinade, until charred and tender, about 12 minutes. Transfer to a platter and let cool slightly before breaking into large pieces.

Divide the steak and broccoli among plates. Top with scallions and sesame seeds. Serve with rice and remaining marinade alongside.
Friday 
For your fun fact this Friday: Turmeric is a root that is full of immune-boosting properties that make it great at fighting inflammation — Which some doctors think that inflammation could be leading to more problems for those with COVID-19. We are having a fancy Friday meal with Creamy Turmeric Chicken Skillet!
Ingredients: 2 tbsp unsalted butter; 1 medium yellow onion, thinly sliced; 1 tbsp peeled and minced fresh turmeric root; 1/4 tsp freshly ground black pepper; 1/2 tsp kosher salt, plus more for seasoning; 1 1/2 lbs boneless, skinless chicken thighs; 1 1/2 tsp ground turmeric; 1/2 cup dry white wine; 1/2 cup heavy cream; 1/2 cup low-sodium chicken broth; cooked basmati or jasmine rice for serving and chopped fresh cilantro for garnish
Instructions: 
Melt the butter in a 12-inch skillet over medium heat. Add the onion, fresh turmeric, pepper and 1/2 tsp of the salt. Cook, stirring occasionally, until the onions are softened, about 5 minutes. Meanwhile, place the chicken on a large plate. Season one side with salt and all of the ground turmeric.

Push the onions to the outer edges of the pan and place the chicken, seasoned side down, in a single layer in the middle of the pan. Season the chicken with more salt. Cook, undisturbed, until the chicken just begins to brown, no longer than 3 to 4 minutes (any longer and the turmeric will start to burn).

Using tongs, flip the chicken and cook for 2 minutes more. Pour in the wine and use a wooden spoon to scrape the browned bits from the bottom of the pan. Cook for 1 minute, add the cream and the broth and stir gently to combine.

Reduce heat to medium-low, cover and cook until the chicken is tender and cooked through and registers at least 165F on an instant-read thermometer, 18 to 22 minutes. Serve over rice and garnish with cilantro.
We hope these recipes inspire you on your next grocery shopping trip and that you have a delicious wek trying all of these tasty, immune boosting recipes!
If you ever need help achieving your weight loss goals, our medical weight loss program will give you the support plus the tools you need. Check out our medical weight loss program by calling 📞 us at 816-214-5276 or visiting http://bit.ly/2R9I5IY to learn more.